Salesforce.com (NYSE:CRM) has stacked its deck for growth over the long haul. The company has the financial fundamentals, a growing customer base, and an expanding footprint with existing customers, a passionate invested user community, and the next generation management team needed to propel high growth into the future. Its closest competitors lag far behind. Any dips in its share price present a good time to buy.
Financial Fundamentals
Salesforce exceeded analyst expectations yet again. It ended Q3 with almost $15.9 billion in booked business, on and off the balance sheet. Combined third quarter revenue was $2.68 billion, an increase of 25% year over year. Subscription and support revenues were $2.49 billion, an improvement of 25% year over year. Professional services and other revenues were $194 million, an increase of 20% year over year. Net income was $51.4 million, $0.07 per share. Adjusted EPS at $0.39 beat analyst estimates of $0.37. GAAP diluted earnings per share was $0.07.
Deferred revenue is also growing. As of October 31, 2017, the balance sheet showed $4.39 billion, an increase of 26% year over year and 24% in constant currency.
Revenue that is unbilled and deferred but contracted (not on the balance sheet) ended the third quarter at approximately $11.5 billion, up 34% year over year.
Salesforce is forecasting revenues of 2.8-2.81 billion and an EPS of $0.32-0.33 for the fourth quarter which may disappoint some traders who had forecasted revenues of $2.79 billion and EPS of $0.34. This may be partly why Salesforce share prices have fallen/flattened since Q3 results were announced one week ago. It is also likely that investors are cashing in on big gains.
Newer Cloud and Platform Revenues Growing Quickly
Salesforce which began as a CRM (customer relationship management) cloud solution has grown its business beyond its initial Sales Cloud. It now sells subscriptions and services on several additional clouds, including its Service Cloud, Sales Cloud, and its Platform(aka App Cloud.)

(Source: Salesforce Q3 press release)
In the Q3 earnings conference call, Salesforce revealed solid revenue growth beyond its flagship Sales Cloud (which grew at 16.8 percent) to its Service Cloud (25.1 percent y/y growth), Platform (33.6 percent y/y growth), and Marketing and Commerce Cloud (40 percent y/y growth.)
More than 70% of Salesforce's business is with customers who use more than one Salesforce Cloud.
Product Pipeline + Partnerships
Salesforce has leading edge products such as Einstein Analytics (artificial intelligence), Quip (a Salesforce subsidiary with next generation productivity apps), and a slew of add-on products such as its Industry Clouds for Health, Financial Services, and Communities as well as SteelBrick (configure, price, and quote software), Pardot (e-mail marketing), and LiveMessage among others. These are newish and represent $.31 of every dollar Salesforce earns.
Salesforce also announced a partnership with Google (NASDAQ:GOOG) (NASDAQ:GOOGL) in November which has not even begun to bear fruit. Through it, the companies will work together to bring Google Analytics, the same ones it uses for its successful ad business, to Salesforce customers. When integrated into Salesforce's products, Salesforce customers will have complete views of customer journeys on and offline, something that competitors like Oracle (NYSE:ORCL), SAP (NYSE:SAP), and Microsoft (NASDAQ:MSFT) aren't able to provide.
On a call with investors last week, Salesforce CEO Marc Benioff said that "We're on a path to exceed $20 billion faster than any enterprise software company in history."
Salesforce's Massive Community of Evangelists
Dreamforce, the company's user conference, drew more than 150,000 Salesforce enthusiasts (called Trailblazers) to San Francisco earlier this month. They engaged not only with Salesforce executives to learn firsthand about the company's portfolio of products, but they also attended workshops, showed off their certification badges to each other (they don't mean much at your kids' soccer game, but they do within user communities), and were inspired by celebrities like Ashton Kutcher, Natalie Portman, will.i.am, the Bush twins, and former first lady Michelle Obama. Who wouldn't want to be part of that club? Belonging is important to millennials, and they will soon be making software buying decisions.
This is a generation of buyers who value the recommendations of their peers, they don't download white papers like older executives did.
Salesforce Expertise Tied to Career Success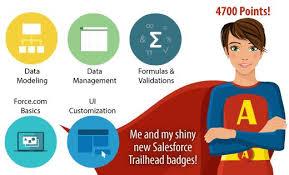 Salesforce introduced new learning pathways and programs on Trailhead for its Trailblazers (Salesforce users.) More than 450,000 have signed up to learn how to develop applications on and use the Salesforce platform. This is a group of users that collects badges, certifications, and builds careers as they learn. Not only can they make Salesforce look good in their workplaces, but their livelihoods are invested in the success of Salesforce where they work.
Next Generation of Leaders
Salesforce has identified its next generation of leaders. CEO Benioff promoted entrepreneur and former Google and Facebook executive Brett Taylor to President Product Development. Taylor has brought some highly successful and popular web-based technology products to market, including Google Maps, FriendFeed (sold to Facebook (NASDAQ:FB)) and Quip (sold to Salesforce). He also founded the Google I/O, the Google developer program. Benioff also announced that Alex Dayon who came to Salesforce in 2008 to launch Salesforce's new clouds (Marketing, Service, Commerce and Platform) is now the company's President and Chief Strategy Officer.
Taylor and Dayon know what the next generation of business leaders want, they have built some of the most widely used software offerings for millennials and are well-positioned to lead Salesforce into the future with products that inspire and empower the digital generation.
Salesforce's stock is currently trading at $103.70. Full year guidance is $12.45-12.5B. The company told investors that it expects to be at $20-22B for FY22. For anyone who intends to hold it over the long term, it's a buy.
Disclosure: I/we have no positions in any stocks mentioned, and no plans to initiate any positions within the next 72 hours.
I wrote this article myself, and it expresses my own opinions. I am not receiving compensation for it (other than from Seeking Alpha). I have no business relationship with any company whose stock is mentioned in this article.
About this article:ExpandAuthor payment: $35 + $0.01/page view. Authors of PRO articles receive a minimum guaranteed payment of $150-500.Tagged: Investing Ideas, Long Ideas, Technology, Application SoftwareWant to share your opinion on this article? Add a comment.Disagree with this article? Submit your own.To report a factual error in this article, click here