Sears Holding (Nasdaq:SHLD) is a retailer with more than 1,000 stores across the US. The company has struggled operationally over the last few years, with a significant reduction in sales prompting the closure of several stores (store closure program is still ongoing).
As part of the ongoing debt exchange offering, Sears management have provided revised Q4 2017 estimates for some key metrics. Sears expects to report net income of between $140m and $240m, driven by a large positive tax item. Underlying operational performance remains very weak. Our investment thesis for Sears, which you can find here, remains unchanged.
Q4 Revised Management Estimates
The most important metric we track for Sears is comparable sales (which excludes the impact from closed stores), which management estimates to have decreased by 15.6% in Q4, due to a 12.2% reduction at Kmart and a staggering 18.1% drop at Sears Domestic. This is worrying because it confirms a continuation in comparable sales decrease over the past few years.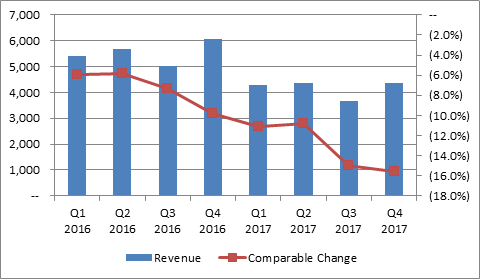 Source: Quarterly Results, Pandora Capital.
Total sales for the quarter of $4.4bn are 27% lower than the same quarter last year, despite the last quarter having an extra week compared to last years (14 weeks versus 13 weeks).
We have updated our Q4 estimates based on the new data provided by management ( see table below). We do not expect a meaningful decrease in SG&A, with Q4 generally experiencing the highest costs due to it being the busiest quarter of the year. The $75m impairment charge relates to a non-cash impairment charge to Sears trade name, which management expects to be between $50m and $100m.
We expect Sears to continue with its real estate liquidation program, and forecast a $320m gain on sale, in line with previous quarters.

Source: Quarterly Results, Pandora Capital.
We wouldnt be surprised if Sears announces further store closures when the final Q4 results are released. The continued (and accelerating) drop in comparable sales is surely making more stores loss making at the contribution level (i.e. before central overheads).
Conclusion
Despite the headline net profit result driven by the US tax reform, Sears operational performance remains poor, with a further significant decrease in comparable sales during the busiest quarter of the year.
We re-iterate our SELL rating, and suggest selling any remaining Sears shares. We are confident in ESLs continued support (see our previous article on ESLs financial support), and do not expect Sears entering bankruptcy proceedings if the debt exchange is at least partially successful. However, we note that a successful debt exchange transaction will result in significant dilution to Sears current shareholders, which reduces any potential upside from a miraculous turn-around of the retailer.
Disclosure: I/we have no positions in any stocks mentioned, and no plans to initiate any positions within the next 72 hours.
I wrote this article myself, and it expresses my own opinions. I am not receiving compensation for it (other than from Seeking Alpha). I have no business relationship with any company whose stock is mentioned in this article.
About this article:ExpandAuthor payment: Seeking Alpha pays for exclusive articles. Payment calculations are based on a combination of coverage area, popularity and quality.Tagged: Investing Ideas, Quick Picks & Lists, Services, Department StoresWant to share your opinion on this article? Add a comment.Disagree with this article? Submit your own.To report a factual error in this article, click here