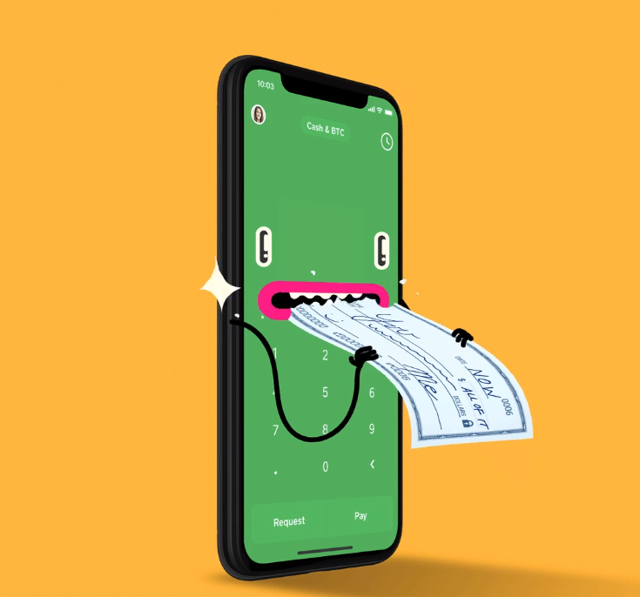 On the surface, the most popular P2P payment apps have similar appeal: Install app, connect a bank account, and start sending cash to anyone else with the same app. This makes everything from paying for yard sale items to splitting dinner a little easier.
As I detailed here, PayPal's (PYPL) Venmo has a large lead in this space, but Square's (SQ) Cash App has some big functionality advantages. With Cash App, every user can get a debit card, and therefore, essentially a bank account, including the ability to receive direct deposit from their jobs and use the debit card at ATMs. This differentiation seems to be enough to drive heavy adoption in areas of the US that are (in CEO Dorsey's words) under-banked. From here, we see Cash App growing in popularity.
Have a look at the Google Trends maps for Cash App vs. Venmo, on the timelines of 12 months, 30 days, and the last 7 days.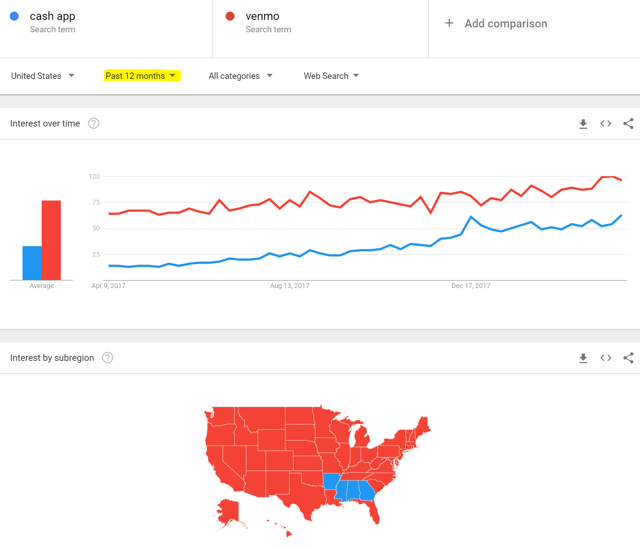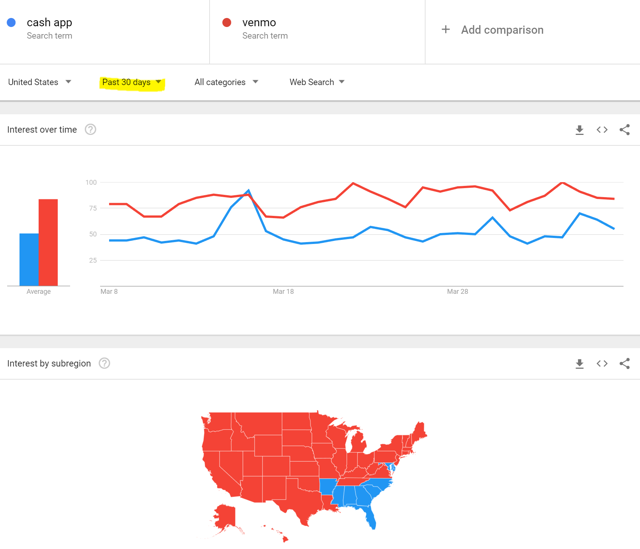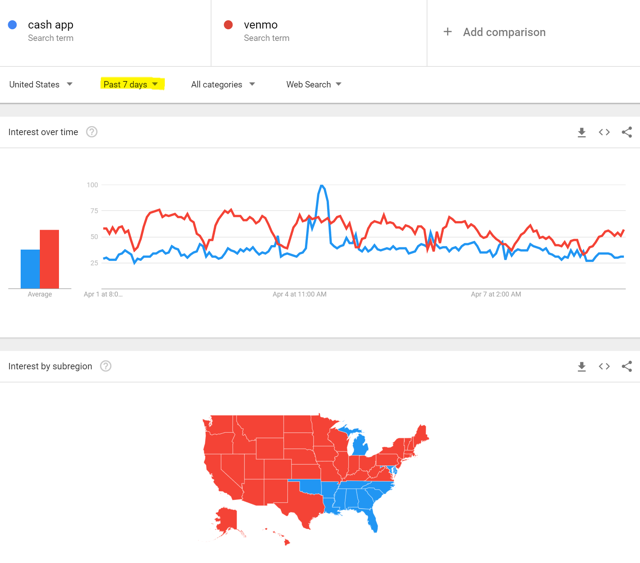 Not only is Square's Cash App growing in popularity but their avenues for monetization are larger. The ability to get a debit card hugely increases the value to the under-banked, and it also makes generating revenue much easier for Square. The Visa debit card means that every debit transaction made with the Cash App card gives Square a cut of the merchant fee.
As a minor note with little to show for it yet, Cash App is now available in the UK. (Venmo is still US only). We might expect Cash App to expand next into the other markets Square already serves: Canada, Japan, and Australia.
Amazon Mulls Payments
If you're following AMZN, SQ, or PYPL, you've probably seen the headlines:
Amazon's Next Mission: Using Alexa to Help You Pay Friends
Firm looks to make voice commands the next wave of commerce
At first blush this plan bakes in an obvious demographic disadvantage: Owners of an Alexa are a much smaller population than owners of an Android or iPhone. Of course, you could download the 2.5 star Alexa app on iTunes, but the description suggests it only works if you own an Alexa speaker. Maybe that would change.
On the other hand, if Amazon wants to try and enter a space, they certainly have the resources to do so. Many a stock has fallen because Amazon merely mulls a market.
However, it's very important to remember that Amazon does this kind of thing all the time and most people just forget the times that it fails. Remember for instance the last time Amazon competed with Square?
NY Times 2015: Amazon Shutting Down Its 'Register' Credit Card Processor
Not every venture inside the monolith actually pans out. There's a similar story for Etsy (NASDAQ:ETSY) competition (with a similar Etsy stock price drop on announcement, actually). Remember it?
WSJ 2015: Amazon Targets Etsy With 'Handmade' Marketplace
Amazon's handmade efforts didn't get very far.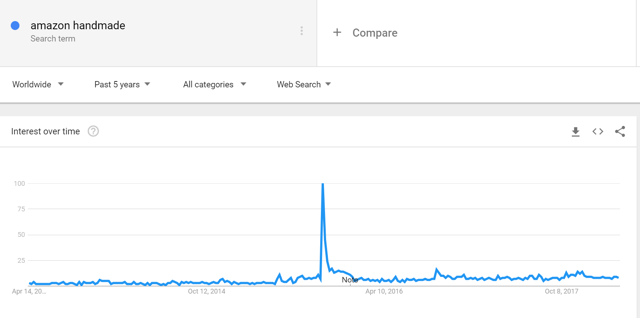 You can see when they are announced, and you can see that no one cared by Christmas.
Amazon's ethos of "Announce fast, Release fast, if it fails, oh well" is intentional. From Bezos' point of view, this is actually a feature. In a shareholder letter in 2016, he called Amazon "The best place in the world to fail." He wants lots of teams working on lots of products, and if some of them don't pan out, that's OK. This has lead to a lot of successes, but also a number of small headaches for consumers who use products that are quickly discontinued and (charitably) forgotten.
In this latest case, Amazon might have a better time trying to buy PayPal for Venmo or Square for Cash App but also to compete in the small-biz transaction field that Amazon tried and gave up on. It would be amusing if this details-thin announcement was calculated to hit PYPL or SQ's stock price for a cheaper acquisition. That's probably way too cheeky, but for a lot of markets, Amazon has had more success acquiring than building their own.
Personally, I think it's somewhat unlikely that AMZN would acquire PYPL due to a clash of cultures when it comes to customer service. (Amazon's: Very good. PayPal's: Legendarily evil). This reputation may also be the reason PayPal has kept their own name off of their Venmo acquisition product until very recently.
I think there is a very slight chance that AMZN would try to acquire SQ. It would allow them to really break into small-vendor retail where they have failed with homegrown solutions before, and give them instant access to a growing P2P transaction market. Everybody loves to speculate about such acquisitions though, so I wouldn't hold my breath.
I've written my own bull analysis of Square before here, though I am obviously not only a fan of Square. All three companies show promise in their own way.
Disclosure: I am/we are long SQ, AMZN.
I wrote this article myself, and it expresses my own opinions. I am not receiving compensation for it (other than from Seeking Alpha). I have no business relationship with any company whose stock is mentioned in this article.