Stanley Furniture (STLY) recently sold essentially all of its assets and changed its name to HG Holdings. The company has delisted from NASDAQ as it no longer has an active business and is now listed on the OTC markets. The short version of this article is that the company trades for just under the cash on its balance sheet and has other assets leaving a reasonable estimate of value at 50% above its current share price. There has been forced selling because the company has left the national exchange. There are a variety of investors who won't (or can't) own shares trading over the counter which has resulted in the price declining.
The company is relatively straightforward to value, now that the sale of their asset has gone through and they have released their 10-Q for the quarter after the sale. By far their biggest asset is $6.8 MM in cash.
The company kept a couple of other assets, including $0.6 MM of restricted cash. It is to be used for workers' compensation claims they also kept, so I will subtract it from the liabilities on the balance sheet and deduct the difference, which is $0.9 MM.
The other assets are a bit quirkier and tougher to value. The smallest of the assets is the remaining claims under the Continued Dumping and Subsidy Offset Act. This was a US law where duties charged on products by the US were distributed to firms affected by foreign competition. Stanley Furniture was the largest recipient of funds from a duty on Chinese wooden bedroom furniture and has received millions of dollars. However, the US lost a case regarding the law at the World Trade Organization and it was repealed in 2007. The payments from duties collected prior to that time are unbelievably still trickling out.
According to the US Customs and Border Control, Stanley Furniture received $432k from duties collected prior to 2007 in the 2017 customs fiscal year. According to other Customs and Border Control documents, the case Stanley is receiving funds from (A570890) has only $233k in funds collected left, and Stanley only gets ~37% of that. That makes the maximum funds available to the company only $86k, which is probably not material. I had higher hopes when I started delving through the fascinating world of US customs and duty records.
The next asset has a potentially higher upside, as it is a $7.4 MM promissory note from the buyers of their main business. Now, the business they sold was negative EBITDA in the last three quarters, so repayment of the loan isn't a slam dunk, especially given it has been subordinated to secured financing. The assets sold included inventory that covers both loans, so there is still a strong chance they get the money back. It is accruing interest at 6%, which isn't commensurate with the risk involved, suggesting a discount would be warranted. I'm going to rather arbitrarily suggest a 50% discount to the face value of the loan is reasonable and value it at $3.7 MM. The interest payments on the loan should cover the company's ongoing G&A until they are able to complete a transaction to purchase or merge into a profitable business, which is the endgame here.
The company also has a 5% interest in the buyer, which has mostly option value, and I won't include it in my valuation but do mention it as a source of potential upside. The buyer of the company is linked to Vietnamese trade interests, so there is certainly a possibility they will be able to turn the business around.
Their final asset is $21.8 MM in federal net operating losses. While the new lower tax rates make these less valuable than they otherwise would be, they are still worth something. With the tax rate now at 21%, these could offset $4.6 MM of taxes. I'll assume that for reasons of present value discounting and risk that they are worth half that or $2.3 MM.
The table below shows a sum-of-the-parts valuation for the entity, which comes up with a price target of 36% in excess of the current share price. I believe all of the inclusions are reasonably conservative. The one with the biggest potential variance is the note receivable which is likely a bit of a binary outcome. While I think discounting it accounts for the risk, I wouldn't be unduly surprised with the note being a zero in a year or two or with it getting fully repaid.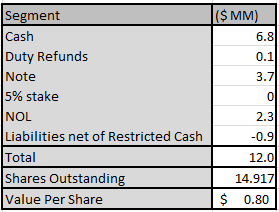 Source: Filings, author's analysis
Even if you put a zero for the note receivable, the valuation still comes to $0.56, which is only slightly below the $0.59 per share price. Thus, this seems very much like a "heads I win, tails I don't lose much" sort of situation.
This idea originally appeared in the Micro-cap Review. There is a price increase coming for the service in June. If you liked the article, take a free trial, and you will be grandfathered at the current price! The vast majority of my profitable micro-cap ideas are never published publicly, and a subscription includes all of them! There are regular profiles of undervalued companies, including net-nets, plus a monthly feature of multiple arbitrage and special situation ideas. See my recent public arbitrage idea for an example of those. Plus, there is currently a two-week free trial in place, so there is absolutely no risk to trying it out. Both the current price and the free trial offer expire in June!
Disclosure: I am/we are long STLY.
I wrote this article myself, and it expresses my own opinions. I am not receiving compensation for it (other than from Seeking Alpha). I have no business relationship with any company whose stock is mentioned in this article.
Editor's Note: This article covers one or more stocks trading at less than $1 per share and/or with less than a $100 million market cap. Please be aware of the risks associated with these stocks.