For the past few years, it has been slim pickings for dividend investors. High yields have been hard to find, and what opportunities did appear to exist, such as in the energy sector, often led to sizable losses that more than erased the seemingly attractive dividend yields.
However, the main problem for yield investors — low interest rates — is starting to resolve itself. The 10-year treasury yield has now doubled since its low. The Donald Trump presidency is bringing hopes of faster economic growth and higher inflation, thus powering up interest rates. New Federal Reserve chief Jerome Powell seems committed to a gradual but firm path toward higher rates going forward.
This has caused big declines for REITs (real estate investment trusts) and defensive stocks that yield-focused investors tend to gravitate toward. This dynamic has set up some outstanding bargains for dividend investors in May. The market rarely stops at fair value during a correction, some of these 10 stocks are tipping well into deep value territory. Let's get started.
Compare Brokers
Dividend Stocks to Buy: Exxon Mobil (XOM)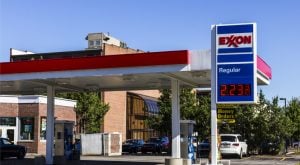 Source: Shutterstock
Dividend Yield: 4.3%
In 2015, Exxon Mobil Corporation (NYSE:XOM) bottomed out at $72 share as the price of oil crashed. With oil reaching a nadir of $27 per barrel, investors couldn't see a bright future for big oil companies. Fast forward, and oil is now up around $70 per barrel. Investors have rewarded XOM stock by moving it up from $72 up to $76. That's right, with oil nearly tripling, XOM stock is up less than 10%.
Now, Exxon has some problems of its own. Ex-CEO Rex Tillerson's controversial time over at the State Department brought unneeded publicity to his former employer. Exxon's major development efforts are seeing mixed results. And the company's big bet on natural gas years ago continues to underwhelm as natural gas prices stay low.
But don't get too caught in the weeds. Exxon Mobil is the dominant American oil company. It has a storied history of dividend increases, a powerful balance sheet and unmatched scale. XOM stock has rarely yielded more than 4%, and when it has, investors have fared well buying at that level. The 16x forward price-to-earnings ratio and big pop in 2018 earnings favor buyers here as well.
Compare Brokers
Dividend Stocks to Buy: Kraft Heinz (KHC)
Source: Mike Mozart via Flickr
Dividend Yield: 4.5%
The party sure ended quickly for Kraft Heinz Co (NASDAQ:KHC). Just a couple years ago, 3G and Warren Buffett took control of the food giant. Those superstar investors were expected to lead Kraft Heinz to consolidate the global food industry in the same way 3G's Anheuser Busch Inbev NV (NYSE:BUD) has reshaped the beer industry. But it hasn't happened. Kraft Heinz has failed to make another big merger. More importantly, its organic sales growth has dried up.
Investors have punished the company. Its superstar investors and management aside, KHC stock has gone moldy; the stock is down from over $90 to $55 over the past two years. And it's understandable why investors are irritated.
At the end of the day though, one of the world's leading food companies is now selling at 6x trailing and 14x forward earnings with a 4.5% dividend yield. Just two years ago, investors were scrambling to buy these sorts of giant food companies at more than 20x earnings and less than a 3% dividend.
Now, at far better prices, people are selling as fast as they can. Take advantage of the herd and load the pantry with this 4.5% dividend payer.
Compare Brokers
Dividend Stocks to Buy: Hershey (HSY)

Source: mhiguera via Flickr
Dividend Yield: 2.9%
Kraft Heinz is far from the only food company that should be on dividend investors' radars now. The sector is deeply out of favor, leading to numerous opportunities. Next up is Hershey Co (NYSE:HSY).
For a summary, this storied brand is by far the leading chocolate seller in the United States and one of only two with meaningful market share. This has practically given the company a license to print money with fat profit margins and stable sales volume over the years.
HSY stock is down as of late due to higher cocoa prices and the broader sector sell-off. This stuff doesn't matter in the long-term though. And speaking of the long-term, The Hershey Foundation safeguards investors' interests here, keeping management focused on building a long-term global chocolate and snacks empire rather than playing short-term EPS games. The current nearly 3% dividend yield is the second highest over the past 30 years of Hershey's history; it only paid more during the financial crisis. As such, don't expect HSY stock to stay this cheap for long.
Compare Brokers
Dividend Stocks to Buy: Hormel Foods (HRL)

Source: Mike Mozart via Flickr (Modified)
Dividend Yield: 2.1%
Unlike the previous two food companies, Hormel Foods Corp (NYSE:HRL) has comparatively been on a roll. Its stock has avoided the broader foods sell-off. It is flat for 2018 and up 20% from last fall's low. That said, HRL stock is still deeply undervalued here at $35.
The company, known for its iconic SPAM brand, has quietly repositioned itself as a millennial powerhouse. The company caught onto the low-carb movement early, stocking up on products targeting protein and healthier eating. Recent acquisitions include a major guacamole brand, organic nut butters, natural/hormone free deli meats and protein drinks. The company also has a partnership with Mexico's Herdez to distribute that country's most popular salsa to the fast-growing Mexican-American community.
In recent years, Dividend Kings such as Hormel (50 or more years of consecutive dividend hikes) traded at a huge premium. HRL stock hit as high as 30x earnings in 2016, and has had a median P/E ratio over 20 in recent years. It's down to 18x forward earnings now, representing a much more attractive entry point.
Skeptics will claim the 2.1% dividend yield is too low. But management has averaged 18% dividend hikes over the past five years — that yield compounds fast. And with EPS up 26 out of the past 30 years, you could hardly find a more consistent growth and income stock.
Compare Brokers
Dividend Stocks to Buy: Altria Group (MO)

Source: Peyri Herrera via Flickr (Modified)
Dividend Yield: 5%
Let's head to the checkout aisle of the grocery store now. It's time for cigarettes and beer. Altria Group (NYSE:MO) stock has gotten punished lately following threats of more FDA regulation along with a big earnings miss at Philip Morris International Inc. (NYSE:PM).
These issues have put MO stock well into value territory. It's down 21% so far year-to-date. The forward P/E ratio has dipped down to 12x. Analysts see earnings compounding at 10% per year over the next five years. That seems optimistic given its industry and the current regulatory environment. But when you start at that level of earnings and a 5% dividend yield, it's not hard to get good overall returns on a stock regardless of how fast it grows.
Altria also owns a 10% stake in the world's largest brewer, Anheuser Busch. That amounts to a $15 billion position, which throws off plenty of cash for Altria, thanks to Anheuser Busch's own sporty 4.6% dividend yield.
Compare Brokers
Dividend Stocks to Buy: Texas Instruments (TXN)
Source: VEX Robotics via Flickr
Dividend Yield: 2.4%
Income investors often overlook tech stocks. That's a mistake. With the rapid speed with which the economy is modernizing, even yield-seekers should own a few technology plays. Texas Instruments Incorporated (NASDAQ:TXN) is the perfect sort of hybrid stock for more conservative investors.
TXN stock yields 2.4%, versus the S&P 500 at 1.9%. Along with the higher yield, you also get faster growth. Texas Instruments has specialized in niche analog semiconductor chips needed for thousands of specific applications. Its patent library is huge, and unlike more commodity semiconductor companies, Texas Instruments has a more durable set of product lines. In other words, it doesn't live or die based on the latest iPhone model.
Back to the yield angle, Texas Instruments has raised its dividend every year dating back to 2003. It has managed an impressive 21% compounded dividend growth rate over the past five years. That starting 2.4% dividend yield compounds at a blistering speed.
And while TXN stock isn't precisely cheap at 29x trailing and 18x forward earnings, you could pay far more for other tech companies with less exciting growth prospects. Analysts see earnings growing 13% per year through 2023.
Compare Brokers
Dividend Stocks to Buy: EPR Properties (EPR)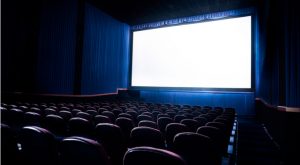 Source: Shutterstock
Dividend Yield: 7.8%
Along with consumer staples, investors have also been dumping their REITs. The general reason is the same: interest rates are going up, so high yield stocks lose their appeal in comparison to bonds. The selling has been indiscriminate, with little attention paid to what in particular is being dumped. While many REITs were overvalued in previous years and deserve their recent haircuts, here are two that should stand apart from their sector.
EPR Properties (NYSE:EPR) is an interesting, diversified REIT. It has acquired a bunch of non-traditional rental assets in fields as varied as educational facilities, movie theaters, water parks, and Peak Resorts Inc (NASDAQ:SKIS) ski resort facilities. A bunch of generic offices or shopping centers, this is not.
There are a couple of things that make EPR exciting for a yield investor. First, it is continuing to grow its cash flow — something that many REITs are no longer able to do given rising interest rates and weakness in many of the shopping and office based REITs. On top of that, EPR's dividend is up to 7.8%. And, EPR pays it out monthly, leading to a dependable frequent-paying high-yielder with a varied mix of properties.
The stock is on sale; it's down 24% over the past year.
Compare Brokers
Dividend Stocks to Buy: Public Storage (PSA)

Source: Mike Mozart Via Flickr
Dividend Yield: 3.9%
Our other REIT for May is Public Storage (NYSE:PSA). The company is famous for its bright orange-painted self storage units across North America. Its top-tier management team has built Public Storage into the nation's leader in the space and one of the most successful publicly-traded REITs in the U.S. over the past 25 years.
Importantly, given the changing interest rate environment, Public Storage has a compelling tactical advantage. It has relatively little debt. It has an "A" credit rating, making it one of just a handful of REITs rated that highly. Additionally, it is primarily funded by preferred stock at interest rates in the 5% range that never mature. This means that regardless of how high interest rates may go, Public Storage can keep paying 5% for its capital and never be subject to refinancing it at a higher cost. This is potentially a huge advantage depending on how far this cycle goes.
On top of that, Public Storage is unusually efficient for compounding among REITs. Management prioritizes growth over the dividend. The stock yields just 4% – and historically has often only been in the 3s. However, in addition to large dividend hikes, management also does plenty for the share price. PSA stock is a quadruple since the 2009 lows, far outpacing most other blue chip REITs. For growth and income investors, PSA stock is a perfect blend of the two forces.
Compare Brokers
Dividend Stocks to Buy: Walgreens Boots Alliance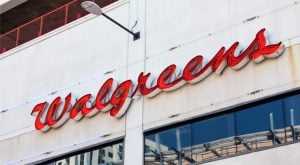 Source: Shutterstock
Dividend Yield: 2.6%
Walgreens Boots Alliance (NYSE:WBA) is another Dividend Aristocrat that has been thrown to the curb. The potential overhaul of the health care system, threats from Amazon.com, Inc (NASDAQ:AMZN), and a bunch of game-changing health care industry mergers have investors worried. That's their loss though.
WBA stock has now increased its dividend 42 years in a row. The starting yield, at 2.6%, isn't a game-changer. But the consistent hikes make it a solid long-term performer. Investors are preoccupied with potential near-term problems, but earnings are continuing to grow; WBA stock is now trading at just 9.9x forward earnings. At some point, the price is simply too low. WBA stock goes higher in coming quarters, and you get a respectable dividend as well.
Compare Brokers
Dividend Stocks to Buy: Johnson & Johnson (JNJ)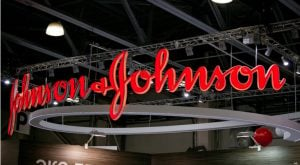 Source: Shutterstock
Dividend Yield: 2.9%
Finally, it's hard to discuss healthcare dividends without mentioning Johnson & Johnson (NYSE:JNJ). This isn't the cheapest company on this list, but given its unmatchable range of products and powerhouse brands, JNJ is the ultimate sleep-well-at-night stock.
At 23x trailing earnings and 15x forward, JNJ stock is getting back to the range where it's starting to look like a good value. The stock reached $147 in January but is down to $124 now, and sits just a few bucks above its 52-week low. Some concerns are due to its drug development division; biotech has been having a choppy 2018.
Overall though, Johnson & Johnson has been good for 55 consecutive annual dividend increases, and at a 2.9% starting yield, the payout is high enough to make this blue chip worth picking up in May.
At the time of writing, the author owned XOM, KHC, HSY, HRL, EPR, TXN, WBA, and JNJ stock. You can reach him on Tw