The market was revving its engine Monday morning, but a caution flag was still flying, keeping stocks from being off to the races.
Momentum from Facebook.com, Inc. (NASDAQ: FB) stronger-than-expected earnings, reported after the market closed yesterday, helped equities futures, which were pointing to a higher open for all three of the main U.S. indices. Investors seemed to cheer as the tech giant beat expectations despite the data handling issue. Eyes will turn to the Seattle area later today as Amazon.com, Inc. (NASDAQ: AMZN) and Microsoft Corporation (NASDAQ: MSFT) report earnings after the bell.
Still, sentiment is mixed, with market moves perhaps getting overdone either way because of a tug of war between bulls and bears. Longer term investors may want to simply ignore some of the noise and focus on the fundamentals, which appear strong.
Earnings Roundup: Transportation and Food
General Motors Company (NYSE: GM) this morning continued the string of companies reporting better-than-expected earnings only to see their stock take a dip. Shares in premarket trading were down about 1 percent. Though GM beat analyst estimates on both the top and bottom line, largely on strong sales of crossover vehicles in North America and China, a fall in net income seems to be what led to the underwhelming response. GM's earnings come on the heels of Ford, which reported higher profit yesterday.
A similar story was repeated this morning by American Airlines Group Inc. (NYSE: AAL), which posted stronger earnings than analysts were expecting. But its shares slid on a warning about higher fuel prices and other input costs. Also lower this morning were shares of Southwest Airlines (LUV), which reported earnings roughly in line with estimates. The Dallas-based airline, still reeling from a recent mid-air mishap, saw its shares lose over 4 percent in early trading.
Moving on to foodstuffs, PepsiCo, Inc. (NYSE: PEP) and Chipotle Mexican Grill, Inc. (NASDAQ: CMG) were among those reporting earnings. PEP earnings beat estimates, but its North America beverage division "continues to work through some challenges," CEO Indra Nooyi said in this morning's call. CMG, however, seemed to crush it, reporting earnings of $2.13 a share versus analyst estimate of $1.53. CMG shares rose over 14 percent in the pre-market.
Investors seem to be realizing the U.S. economy is on decent footing. Helping back that up this morning was news that U.S. jobless claims, which came in under expectations, were at their lowest level since 1969.
Yield Watch
In news from across the pond, the European Central Bank left its benchmark interest rate unchanged, but it remains to be seen when the central bank will end its bond-buying program. Futures on the euro (/6E) remain in a tight range just above $1.22.
Trading this morning is essentially a carryover from yesterday, when stocks ended mixed as investors seemed to weigh conflicting sentiments.
On the one hand, the 10-year Treasury yield closed above 3 percent yesterday, likely reflecting concern about future inflation and causing worry about increased corporate borrowing costs. On the other hand, higher longer term rates can reflect more bullish expectations for economic growth in general. The yield on the 10-year Treasury was back below the 3 percent mark Thursday morning, but concerns about inflation seem to be lingering with crude oil near $70 per barrel and aluminum and steel prices also elevated.
Priced for Perfection?
Investors also seem to be intently watching earnings. But even though many of the companies that have reported so far have beaten expectations, the market hasn't seen a large rally. Why, you ask? Well, as been noted before, it appears this market is "priced for perfection". That generally means if companies knock investors' socks off, maybe they get a little bump or stay flat. But if there's anything negative to focus on, that's where investors' minds seem to be going. Part of the reason behind that sentiment is that stocks appear to be in a repricing mode.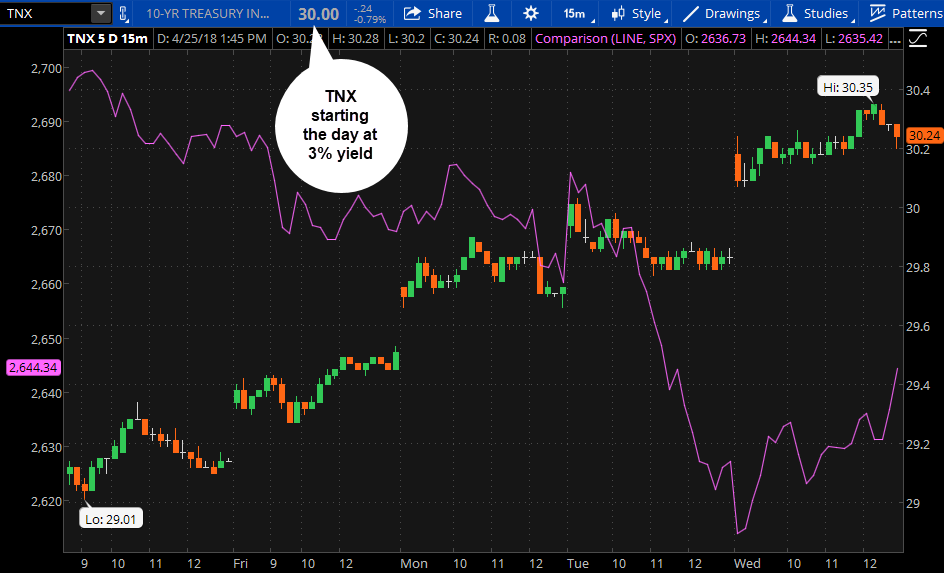 FIGURE 1: 3 percent YIELD AND THE S&P 500. The 10-Year Yield Index (TNX), which reflects 10-times the yield on 10-year US Treasuries, starts the day right at the 3 percent market, a shade lower than yesterday. The S&P 500 Index (SPX – purple line) moved lower yesterday as the 10-year yield moved up, but seemed to settle in by later in the day. Data source: Cboe Global Markets, S&P Dow Jones Indices. Chart source: The thinkorswim® platform from TD Ameritrade. For illustrative purposes only. Past performance does not guarantee future results.
Stocks Vs. Bonds
The climb in treasury yields to four-year highs could pose a special challenge to stocks that long-term investors often buy and hold for yield. Dividend-paying sectors like telecom, utilities and staples all could face more pressure if yields keep ticking up. Staples are already down double-digits year-to-date. Stocks tend to be riskier than bonds (though no investment is risk free), and if bonds pay decent yields, there may be more pursuit of fixed income. This would tend to pull money into bonds that might have otherwise gone into stocks. Though the 10-year gets most of the headlines, it's worth noting that the 1-year Treasury note currently yielded 2.247 percent going into Thursday, compared with just a 1.85 percent dividend yield for the S&P 500.
More on Yield and Stocks
That said, stocks may be able to continue higher even if bond yields also keep rising — at least for a while. After all, there's nothing really magical about the 3 percent mark. Although it is psychologically important, it really shouldn't come as a surprise that yields are moving higher, as the Fed has been telegraphing that to the market for a while now. Investors just seem to be in the mood to sell, and that could provide a buying opportunity for contrarian investors. But there is a limit. If the yield on the 10-year Treasury rapidly rises from where it is now to, say, 3.25 percent, then some investors might start rethinking their portfolio mix.
Lifeblood of the Economy
Trains and trucks are like the blood flowing through the circulatory system of the economy. And the latest checkup results look pretty good. Rail company Norfolk Southern Corp. (NYSE: NSC) reported stronger than expected earnings Wednesday. One interesting metric it reported was that overall volumes rose 3 percent as growth in its intermodal category offset declines in merchandise and coal volumes. Trucking companies have also been doing well as demand for their services is high. Trains and trucks transport the building blocks of America's economy, which means if the companies that operate them are doing well, the economy probably is too.
Information from TDA is not intended to be investment advice or construed as a recommendation or endorsement of any particular investment or investment strategy, and is for illustrative purposes only. Be sure to understand all risks involved with each strategy, including commission costs, before attempting to place any trade.