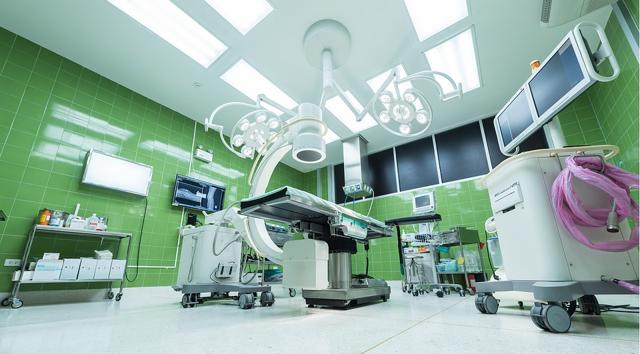 "The very first requirement in a hospital is that it should do the sick no harm"—Florence Nightingale
Foundational Information:
The following article is based on the potential for Surgery Partners, Inc. (SGRY), being my favorite stock investment for 2018.
In recent years we have seen massive increases in the size of our hospitals. What we are now seeing coming to bear on the hospitals are payments contracts being forced on them utilizing value-based reimbursement and bundled payments. In a survey sponsored by Prudential, the survey showed that operating cost will be the dominant concern for our hospitals and this will force them into applying new business strategies to justify their massive operating expenses.
The good news, we have more hospitals, for our growing needs in our nation. The bad news is that we have built massive 'Wal-Mart Super Centers' where we get our healthcare from hospitals. The downside for these behemoth hospitals is the operating cost that run 24 hours a day with three shifts of workers required 24-7.
The Economist newspaper published the following data, early in 2017: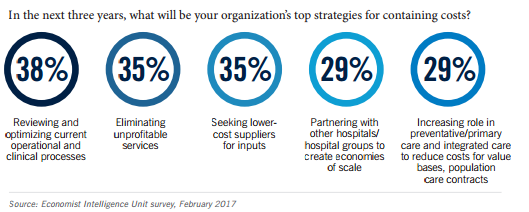 The Issue – In-Patient Care versus Out-Patient Care?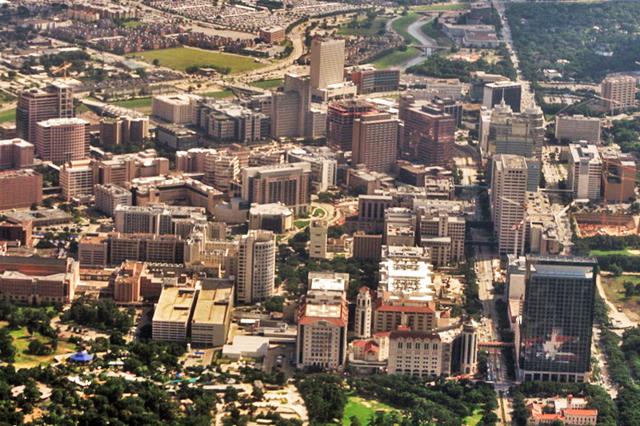 A skyline view of the Texas Medical Center – Houston, Texas.
The Texas Medical Center (TMC) is located in Houston,Texas, and constitutes the largest medical complex in the world. The operating entities employ over 106,000 people, hosts 10 million patient encounters annually, and has a gross domestic product of $25 billion.
The Texas Medical Center contains 54 medicine-related institutions, with 21 hospitals and eight specialty institutions, eight academic and research institutions, four medical schools, seven nursing schools, three public health organizations, two pharmacy schools and a dental school.
More heart surgeries are performed at the Texas Medical Center than anywhere else in the world with 13,600 heart surgeries annually. 180,000 annual surgeries are performed. The TMC performs one surgery every three minutes. Over 25,000 babies are delivered each year, more than one baby every 20 minutes. The Texas Medical Center offers over 9,200 total patient beds.
The Center receives an average of 3,300 patient visits a day, and over eight million annual patient visits, including over 18,000 international patients. The TMC has over 750,000 ER visitors each year. There about 20,000 physicians, scientists, researchers and other advanced degree professionals in the life sciences. The TMC has over 160,000 visitors each day.
In Texas, everything is big! However, after one digests the above data, this personifies the issue – the TMC is unwieldy and has reached the point that it's difficult keeping all the parts moving in the right direction. First is the competition between the major hospitals is intense and well rooted in the history of their parent universities. Collectively, the combined advertising budgets for these respective hospitals probably generates the largest advertising budget expense in the state. The hospitals are like the airline industry – when one of the 9,200 patient's bed goes empty for one night the income opportunity is lost. Just like the empty seat on an airplane when it takes off for a flight there will be no income from the vacant seat. Hospitals need patients staying longer than just overnight.
The operating cost for this complex is based on each of these facilities having a full offering of medical care options for their patients. Each hospital runs three eight hour shifts with the full array of support staff, the utilities cost is massive when you consider just the electricity bills for the various buildings. Plus, in the last three years, flooding in the area has forced certain of the hospitals having to close various parts of their operations for lengthy periods of time.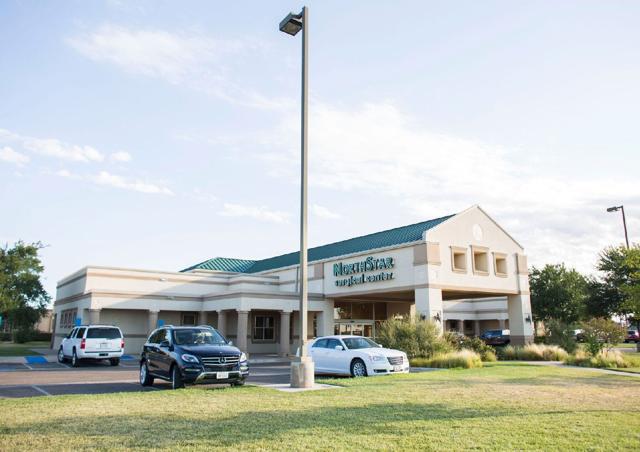 The above is a picture of a free-standing surgical center – assuming patients are being cared for by well-trained and competent surgeons and support staff as found in regular hospital settings and a free-standing ambulatory facility, which would you prefer for a surgical procedure that could be offered in either environment.?
What Can Out-Patient Surgical Centers Provide:
This is where the outpatient clinic can function with associated cost not involving over-night stays, mechanical and electrical systems running 24-7. And do this without losing the ability for being profitable to the professionals working in this more user-friendly environment.
Staffing – Most outpatient surgical centers are not open nights and weekends; therefore, multiple staffs are not needed. The ability to attract quality physicians is greatly enhanced by physicians having the flexibility to schedule the timing of their surgeries performed. For a complex like the TMC, the availability of having surgery rooms available at random is often not the case.
Growth in Actual Outpatient Surgery – The Health Industry Distribution Association several years ago projected a 47% growth in such surgeries by 2020. This projected number has probably increased in recent years due to the demographics.
Medicare Reimbursement – For those on Medicare there is an incentive based on a prospective payment system that pays an incentive for procedures that minimizes in-patients for overnights in the hospitals.
Technology Developments – More and more procedures have technologies and diagnostic products that allow procedures taking place outside of hospitals.
More Autonomy and Income for Physicians – The growing practice of managed care tying a doctor to a specific hospital constrained their flexibility and potential income. (Note the Staffing comments made earlier)
Social Factors – There are certain factors about being admitted to a hospital that are intimidating for individuals. Long waiting periods for checking into the hospital, plus waiting to see your doctor being only two examples. Finding parking space being another. More and more are finding the easy of using a specialty center for surgery procedures that don't require overnight stays being to their liking.
The Role that Surgery Partners, Inc. Could Play in this Market Space:
Surgery Partners (SGRY) is a Nashville, Tennessee based corporation. They are a major player in surgical facilities and ancillary services with more than 180 locations from coast to coast. These type operations are commonly referred to as Ambulatory Surgical Centers – ASCs.
The Areas They Offer Medical Care and Other Historical Data:
Surgical Facilities Anesthesia Pharmacy Optical Physicians Practice Urgent Care 5,000 Affiliated Physicians 600,000 Patients on an Annual Basis 10% Annual Same Facility Growth Over the Last Five Years 94% Patient Satisfaction Rating
Operational History for Surgery Partners:
2004 – The company was founded with an operating philosophy built around a physician-centric approach.
2011 – The company expanded their area of involvement in the health-care market by merging with NovaMed. NovaMed's area of expertise was in ophthalmology and the related ancillary services associated with this major market area.
2014 – Based on ten successful years of operation make Surgery Partners a major expansion by merging with Symbion. The price paid for Symbion was approximately $792 million. In 2013, they had generated around $535 million in revenue. The combining of the two companies created one of the nation's largest ambulatory surgery centers.
2015 – Surgery Partners made an Initial Public Offering for their stock at the price of $19.00 per share for 14.29 million shares. There timing for their IPO happened the same time of a major sell-off occurred in the health-care stocks, so the IPO price was lowered than the expected pricing.
2017 – Another major of expansion for the company occurred when they announced on May 10th plans to merge with National Surgical Healthcare where SRGY would acquire them for approximately $760 million. Funding for this deal came from Bain Capital Private Equity, a leading global private investment firm known by the association of Mitt Romney being one of the founders of the firm. The deal provided capital in exchange for Bain securing a preferred security position in the company. As for of the deal, Bain acquired the equity stake H.I.G, Capital's held in Surgery Partners. Basically, this means Bain holds a majority interest position in Surgery Partners. The combined entity would level Surgery Partners with 125 surgical centers, 58 physician's practice locations and associated complementary ancillary services. This further established them as the leading independent surgery company with an emphasis on strong musculoskeletal offerings for their patients. This emphasis also includes treatments options for orthopedics, pain and spine conditions. This now gives Surgery Partners 125 surgical facilities in 32 states, plus, a network of over 5,000 physicians.
What Happened to the Stock in August, 2017?
On June 25th, SRGY shares hit a historical high of $24.05. Then on August 8th, they announced the second quarter results where they offered the following comments:
Revenues decreased 0.5% compared to second quarter 2016 to $288.4 million Same facility revenue increased 2.0% over second quarter 2016 to $296.5 million Net loss attributable to Surgery Partners was $4.5 million, compared to net income of $2.1 million in the second quarter 2016 Adjusted EBITDA was $37.1 million, compared to $46.0 million in the second quarter 2016 Diluted EPS of $(0.09) per share compared to $0.04 per share in the second quarter 2016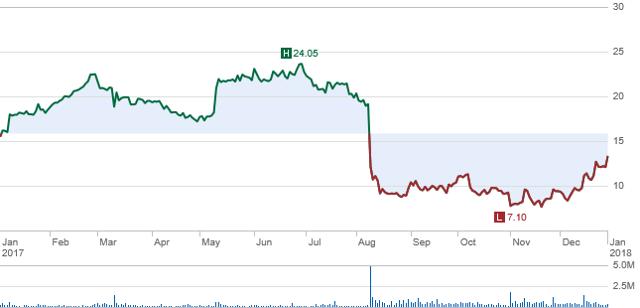 The bottom fell out for the shares with a near 40% drop based on a massive increase in volume.
On August 31, 2017, the NSH deal was completed.
From the historical high of $24.05 in June, the prices finally found support at the historical low of $7.10 reached on October 29 th, 2017.In the interim we have seen the stock bounce well above the $7.10 level. This is encouraging for the ability to regain previous highs, if they can solve the current issues that instigated the sell-off in the shares.
November-December 2017 Events:
On November 8th, they announced the third quarter results with the following being the key data points.
Revenues increased 8.4% compared to third quarter 2016 to $306.3 million Normalized same-facility revenues increased 2.9% compared to third quarter 2016 Net loss before income taxes was $19.2 million compared to income before income taxes of $12.6 million in the third quarter 2016 Normalized Adjusted EBITDA was $43.1 million, compared to $44.7 million in the third quarter 2016 Diluted EPS of $(0.66) per share compared to $(0.05) per share in the third quarter 201 6 Full Year 2017 Projections @ 2 nd Q and then 3rd Q:



SRGY: 2017 Full Year Projections

2nd Q

Revenue:

$1.18 Billion to $1.20 Billion

EBITDA:

$174.0 Million to $181.0 Million

3rd Q




Revenue:

$1.34 Billion to $1.36 Billion

EBITDA:

$178 Million to $185 Million
With the NSH deal closing on August 31st, the 4th Q and full-year results are now based on this new revenue stream. Another factor that needs consideration is the impact the hurricanes had on several facilities in Florida and the Gulf Coast, all the way to Corpus Christi, Texas. Those facilities impacted ranged from just a few days up to several weeks for them being closed for patient services. With the 4th Q results now completed there should be no external factors, such as hurricanes, impacting the revenues and resulting overall growth for the corporation.
The Reality Factors:
SGRY had disappointing 2nd and 3rd Quarter results in 2017. Part of this appears to be related to operational issues in combining the Symbion operations and what appears to be a sizable negative impact in the optical services segment of the corporation. The normalization impact of the hurricanes and the non-recurring adjustments to revenue on the same-facility basis was $23.6 million in revenues and 2,828 cases for both the three and nine months ended September, 2017.
Successor




Predecessor

September 1 to September 30,

July 1 to August 31,

Three Months Ended September 30,

2017

2017

2016

Amount

%




Amount

%

Amount

%

Patient service revenues:

Private insurance

$

72,930

56.2




%

$

80,166

46.9

%

$

140,637

50.6

%

Government

46,162

35.5

%

73,734

43.1

%




111,929

40.2

%

Self-pay

3,861

3.0

%

4,119

2.4

%

5,389

1.9

%

Other(1)

6,883




5.3

%

12,909

7.6

%

20,240

7.3

%

Total patient service revenues

$

129,836

100.0

%

$

170,928




100.0

%

$

278,195

100.0

%

Other service revenues:

Optical service revenues

$

888




$

1,905

$

3,203

Other revenues

1,534

1,246

1,284

Total net revenues




$

132,258

$

174,079

$

282,682
The one area that jumps out for me is the drop in the predecessor optical service revenue results from the all-inclusive results for the 3rd Q, 2017 to the 3rd Q, 2016 results. The other item of interest is the 'other revenues' data. The $1.534 million number for September vs. the $1.246 million number indicates that the NSH deal brings a new revenue source that is separate from the predecessor offerings.
My take away, is the optical service segments isn't a major, nor a growing segment of the SRGY operation. Dispensing of actual glasses or contact lens to patients is now being impacted by new dispensing companies that can deliver prescription components with a mail-order delivery – and huge discounts from the related dispensers directly tied to the prescribing doctors.
It appears NSH was not involved in related optical services, rather they concentrate on the orthopedic segment of healthcare. In my opinion this is the real growth driver for the ambulatory surgical centers. There is no issue with the aging population eye care needs is major medical need, however, does the potential generate enough revenue to support its operational cost for the likes of Surgery Partners? The only benefit that would change this issue for me, is if having the optical services is merely a loss leader to generate future orthopedic patients. Without this benefit, what is the reason for why Surgery Partners divert resources and management talent for a stagnated market revenue source?
The final issue is the growing long-term liabilities for the corporation. If not well managed and the necessary revenues to support the expense being achieved, investors should closely monitor this issue. At this point there is no concern on my part, however, the recent two quarterly results must be turned around. SRGY finished the 3rd Q with nearly $200 million in cash on hand, and a revolving credit balance of $75 million. Liquidity shouldn't be a near term issue, in my opinion.
2018 Events:
On January 5th, 2018, Surgery Partners named a new CEO, filling the spot being filled on an interim basis by a board member. The new CEO is Wayne DeVeydt, the CFO for Anthem (AMT). If credentials are the only evaluations for the new CEO, SGRY made a wise selection with Mr. DeVeydt. He comes from Anthem, a $82 billion-dollar revenue company with their stock trading for $233.00. His twenty-year career involving all aspects of the financial machinations for a major corporation, in my opinion, makes him the perfect candidate for resolving the current issues that SGRY is facing. I realize the potential for someone seeking the corner office with the windows is a great enticement for one seeking such. However, being at the mega-center for building a $82 billion healthcare operation speaks volumes for the potential he brings to a $1 Billion revenue corporation like SGRY.
Investment Considerations:
I find the massive health care crisis and the failure to control related cost issues as being one of the paramount problems we face in our nation. Having an open-ended reimbursement system where the prices go up for the charges being made and the solution is simply charging more for insurance coverage to the patient – must end! Currently spending about 17% of GDP for healthcare, and seeing the longevity for our citizens dropping, it paints a bleak scenario going forward.
Often one can find specific stocks that are mispriced in relations to their true worth. Especially, if one is looking out with a long-term horizon for their investment funds. In the case of Surgery Partners, I find it might be a prime candidate falling into this type situation. For investors who can identify such stocks after doing a great deal of due diligence based on their investing criteria, their efforts can be rewarding.
Let me give one example of this type investing application. On November 18, 2014, I wrote a SA article – Vascular Solutions: Solutions and Prosecutions-Choose Sides. The stock had taken a major hit with the stock crashing, based on a federal lawsuit being filed against the company. I reviewed the situation and felt the lawsuit didn't have merit and that Vascular Solution was offering value investors a great entry price for their stock. At the time I wrote the article the stock had dropped to $24.00 a share. Subsequently, the lawsuit was resolved in favor of Vascular position. In December, 2016, Vascular was bought-out for $56.00 a share, a nice increase 133% increase from the mispriced $24.00 shares. I personally chose the right-side in the Vascular Solutions
I admit Vascular's situation was different as for causation, but the point I'm making is valid. Applying due diligence to situations where a stock has dropped, one has the great potential for finding stocks not reflecting the proper valuations based on the causation for the swoon in the share prices.
My standard rules for investing certainly apply to my position with SGRY. My comments are my opinion — only! My comments and data I share are strictly starting points for investors starting their own due diligence. Investors should always factor into their due diligence issues that are important to them. Taking the time to read SEC filings and financial data is always time well spent, if you value your investment funds. Make sure the issues of health-care and the potential for ambulatory surgical centers offering a partial solution for this growing medical need area is compatible with your thoughts on the issue. Bain Capital holds a controlling interest in SGRY, so this gives me a degree of comfort. I'm sure Bain was involved with the new CEO's selected. Their continued involvement should be watched for any changes. I have taken a small position in the stock, where I'm waiting to see the 4thQ results, before I make a more substantial position in the stock. I would suggest others take the same approach, saving some powder for future opportunities for taking a full position in the stock – if we seen the needed turnaround coming to fruition. Finally! With the NSH merger completed, the size and dynamics with these combined entities should give SGRY enhanced buying power for their needed medical equipment and surgical components. The new CEO's expertise should bring investors some positive results in the near future.
Good luck with your future investment decisions! I think Surgery Partner's has the potential for being my best stock-pick for 2018. Time will tell!
Closing Price (12/29/17) – $12.10
PS: I keep my man-cave/office TV tuned to MSNBC. Over recent weeks I've noted a very impressive ad campaign by Hospital for Special Surgery. Finally took the time to check them out – a very fascinating history for this operation. It was founded in 1863, in NYC. They have satellite facilities around the NYC area, and claim they perform more orthopedic surgical procedures than any other such operation. It appears they have a perfect operating model for ASCs.
Disclosure: I am/we are long SGRY.
I wrote this article myself, and it expresses my own opinions. I am not receiving compensation for it (other than from Seeking Alpha). I have no business relationship with any company whose stock is mentioned in this article.
About this article:ExpandAuthor payment: Seeking Alpha pays for exclusive articles. Payment calculations are based on a combination of coverage area, popularity and quality.Tagged: Investing Ideas, Long Ideas, HealthcareWant to share your opinion on this article? Add a comment.Disagree with this article? Submit your own.To report a factual error in this article, click here