Investors have a lot to choose from when picking stocks to buy. But many are honing in on a handful of larger than life blue chips.
The 10 biggest companies in the S&P 500 index are collectively worth $4.36 trillion. The entire S&P 500 recently topped $20 trillion in value for the first time.
So the top 10 companies, a mere 2% of the 500 stocks in the index, make up almost 25% of the S&P 500's total market value.
That is astonishing.
The rise in popularity of index ETFs that track the S&P 500 is one of the reasons why these 10 stocks are so widely held. When you buy the SPY (SPY), for example, you get exposure to all 500 companies in the index, which is weighted by market value.
Bulls are running wild on Wall Street again. Check out CNNMoney's Fear & Greed Index
But the outsized importance of the biggest 10 companies is also a reflection of how many investors like to follow the old motto of former Fidelity markets guru Peter Lynch: Buy what you know.
Brand name tech companies dominate the market these days.
Apple (AAPL, Tech30) is the most valuable company. It's now worth more than $700 billion.
Google owner Alphabet (GOOGL, Tech30), Microsoft (MSFT, Tech30), Amazon (AMZN, Tech30) and Facebook (FB, Tech30) are the second, third, fifth and sixth most valuable stocks.
These five companies are ones that most people interact with constantly in their daily lives on their smartphones.
The only non-tech in the top six is run by a well-known Luddite of sorts — Warren Buffett's Berkshire Hathaway (BRKB) is fourth.
But even Buffett realizes that tech is an area you can't avoid. Apple is now one of Berkshire's top holdings.
The remaining stocks in the top 10 aren't tech giants, but they are all leaders in their respective industries and are companies that are not too hard for average investors to understand.
Cable and entertainment giant Comcast (CMCSA) is seventh. Exxon Mobil (XOM), JPMorgan Chase (JPM) and Johnson & Johnson (JNJ) round out the top 10.
Is it a problem that these 10 stocks make up such a big percentage of the market? Perhaps.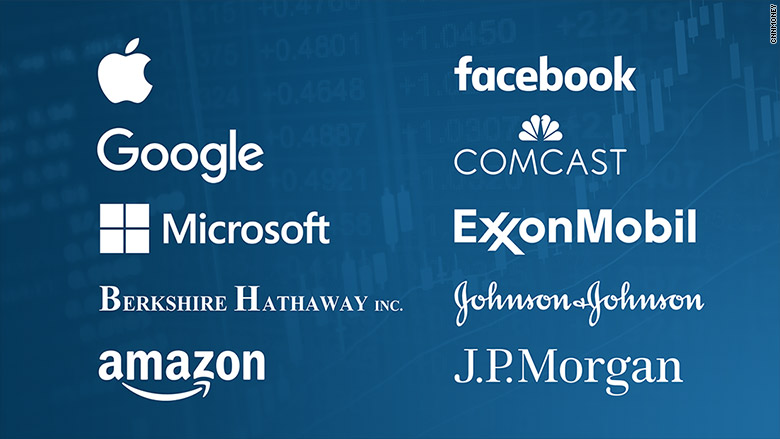 You could argue that these 10 are now too big to fail.
If any of them suffered a massive drop because of poor earnings, accounting problems, management scandals or what have you, they could risk bringing down the entire market.
Remember Enron? Its financial woes dented investor confidence during the 2000-2002 bear market.
But for now, investors seem pretty content with this top 10.
Exxon Mobil is the only one of them that is down year-to-date.
Comcast, Amazon, Apple and Facebook are all up more than 10%.
Still, it will be interesting to see just how this list changes over the next decade.
Only three of the 10 most valuable companies in 2007 are still on that list today — Exxon, Microsoft and J&J.
GE (GE), Citigroup (C), Bank of America (BAC), AT&T (T, Tech30), Walmart (WMT), Procter & Gamble (PG) and Pfizer (PFE) were among the 10 biggest companies a decade ago. (AT&T could get significantly larger soon though if its takeover of CNN owner Time Warner (TWX) is approved by regulators.)
None of these companies has gone away obviously. But the fact that they've been passed by the likes of Apple, Google, Amazon and Facebook just goes to show that it's hard to stay on top of the market for a long period of time.