Q1 2018 Results Was Below Consensus Expectations And Company Guidance
The share price of Tupperware Brands (NYSE:TUP) jumped just over 10 percent intra-day following the announcement of its Q1 2018 results. This is despite the company reporting a 2.2 percent year-on-year ("yoy") decline in its revenue (-6 percent in local currency), while its adjusted EPS of $0.91 was down 10 percent in dollars and 16 percent in local currency. This marks the second consecutive quarterly revenue drop. To make matters worse, the Q1 2018 revenue missed consensus estimates by $0.49 million.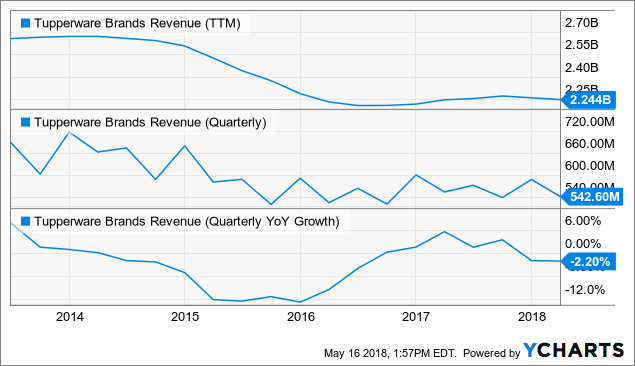 TUP Revenue (TTM) data by YCharts
What ultimately would have crushed the stock was the downward revision in its full-year guidance. From a positive 2-4 percent revenue growth forecast, the guidance was shaved to -1 to +1 percent. The EPS on a GAAP basis was slashed from $4.50-4.65 to $3.98-4.13. In just three months, Tupperware reduced its EPS expectations by a whopping 12 percent.
Share Repurchase Program Saved The Day
Nevertheless, it's not all bad news for investors. The management announced a $200 million open market share repurchase program, reversing its decision not to initiate any share buybacks given the company had exceeded its debt-to-EBITDA target ratio of 1.75 times in Q4 2017. This is on top of maintaining the quarterly dividend at $0.68 per share, which translates to around $140 million in cash. The management deemed the dividend payments to be backed by the expected cash flow from operations net of investing activities of $180-190 million in 2018 (up $10 million from the Q4 2017 guidance). The amount includes $70 million of "revitalization payments" which comprised the closure of its French manufacturing facility.
Looking back in the past five years, while Tupperware's free cash flow has been on a persistent decline, the company still managed to keep its debt profile generally on a downtrend – an indication of its discipline and financial prudence. Hence, the decision to temporarily ignore its debt-to-EBITDA target might not be as worrisome as initially feared. Furthermore, the EBITDA number is currently at depressed levels (to be elaborated).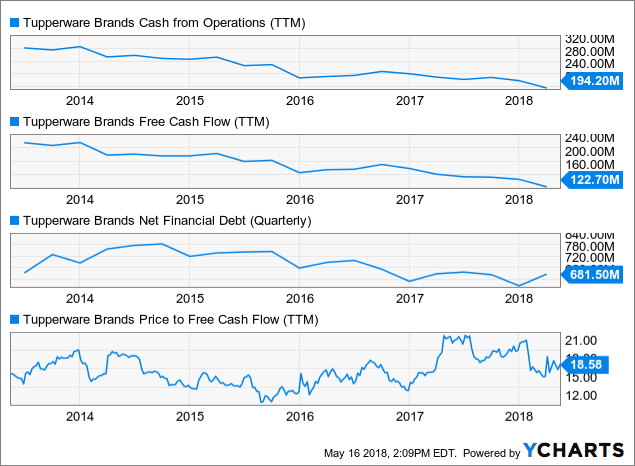 TUP Cash from Operations (TTM) data by YCharts
The Worst Is Behind Tupperware
Besides the unexpected announcement of the share repurchase program, the market was also relieved that certain negative impact on the Q1 2018 performance was behind the company. For instance, the closure of the French manufacturing facility was part of a series of events that unleashed unhappiness, which escalated on social media, and the negative sentiment spilled across Europe.
In Brazil, a customs strike which escalated quickly in Q1 2018 badly affected the shipments of molds used for the production of the containers to be sold and negatively impacted order fulfillment. In Indonesia, it is hoped that a new leader installed would reverse the negative sales growth in the high-potential country. In India, the company implemented a new compensation plan which is structured to incentivize managers to "perform consistently".
Line Items In The 10-Q To Monitor
SG&A expense is an important line item to watch for direct marketing companies, of which Tupperware is one. The strategies of such companies include making frequent promotional offers to members of their independent sales force to encourage them to fulfill specific goals or targets for sales levels, party attendance, the addition of new sales force members or other business-critical functions. The related expense from these promotional activities is lumped within SG&A expense.
For Tupperware, the awards offered are in the form of product awards, special prizes or trips. A sustained increase in SG&A could be indicative of a more challenging environment for the company's products. Fortunately for Tupperware, its SG&A expense has been declining in the past five years. The pace of reduction has exceeded the sales decline and now represents 51.5 percent of revenue on an annual basis, down from around 53 percent in 2015. It continues to get better. For Q1 2018, SG&A as a percentage of sales stood at 53.3 percent, down from the year-ago figure of 53.7 percent.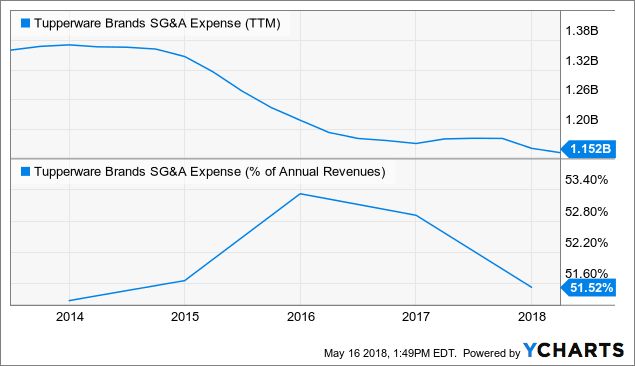 TUP SG&A Expense (TTM) data by YCharts
Investors in Tupperware should note that on December 31, 2017, the company adopted new guidance on revenue from contracts with customers using the modified retrospective method. There was no impact on beginning retained earnings from the adoption as of December 31, 2017, but results for reporting periods beginning December 31, 2017, are presented under the new guidance, while prior period amounts continue to be reported in accordance with previous guidance without revision.
Under the new guidance, the revenue is recognized when the "control of the product passes to the customer, which is upon shipment, and is recognized at the amount that reflects the consideration [Tupperware] expects to receive for the products sold, including various forms of discounts. When revenue is recorded, estimates of returns are made and recorded as a reduction of revenue. Contracts with customers are evaluated to determine if there are separate performance obligations, related to timing of product shipment, that will be satisfied in different accounting periods. When that is the case, revenue is deferred until each performance obligation is met."
Thus far, the amount deferred in the first quarter of 2018 was not material at $6.0 million. Nevertheless, the amount deferred is expected to rise as such revenue would accumulate. That would come at the expense of the reported top line figure, but investors should look at the deferred revenue to see if any reduction in revenue reported in the subsequent quarters is attributed to this change in revenue recognition.
Conclusion
Tupperware has fallen from a YTD high of $66.26 to a low of $40.78 before it reported its Q1 2018 results. The stock is up about almost 10 percent since, but there appears to be more upside on the horizon. Its EV/EBITDA is 11.45 times currently, not excessive historically and considering that is off an EBITDA which was at a five-year low. While company management reassured investors that corrective actions are in place to tackle the challenges faced, what really cheered the market was the announcement of an unexpected share repurchase program, while keeping the dividend unchanged.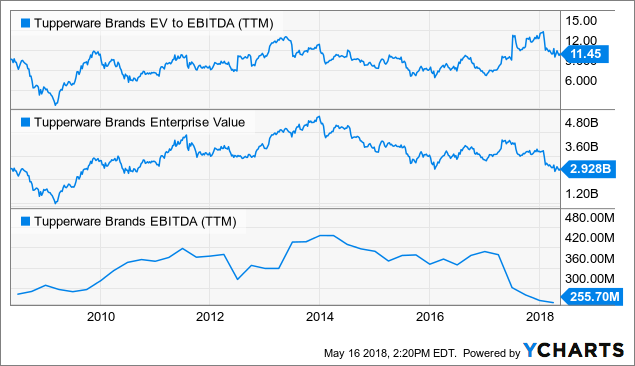 TUP EV to EBITDA (TTM) data by YCharts
Based on what was communicated thus far, I am satisfied that the measures adopted by Tupperware are adequate and appropriate. The guidance implies a large acceleration in the core sales trends in the remainder of the year. Furthermore, sales growth in China looks set to remain the bright spot for a few more quarters. Following a smooth handing over process of the CEO position from Rick Goings to an experienced insider Patricia Stitzel, I would expect more positive developments from the company as the new CEO set out to prove herself.
Even though the stock appears stuck in a descending triangle, it has bounced off the multi-year support line in April. There is room for the stock to rise to $60 by year end, capped by the down-sloping resistance line. This represents around 30 percent of gains, if materialized.

What's your take? Please freely share your thoughts with the Seeking Alpha community, let me know if you found this article useful or provide your feedback in the comments section.
Author's Note: Thank you for reading. If you would like a refreshing take on stocks that you own or are interested in, try looking here. Besides US companies, I cover a number of Asian stocks as well. If you wish to be informed of my new ideas via email so that you have time to read them before the articles get locked behind a paywall 10 days from publication, please select "Receive email alerts" when accessing on a desktop computer.
Disclosure: I/we have no positions in any stocks mentioned, but may initiate a long position in TUP over the next 72 hours.
I wrote this article myself, and it expresses my own opinions. I am not receiving compensation for it (other than from Seeking Alpha). I have no business relationship with any company whose stock is mentioned in this article.