After a torrid run over the past several months, Urban Outfitters' (URBN) stock is taking a step back on Tuesday (1/9) after the company announced disappointing holiday sales numbers. The numbers weren't bad (roughly in line with Q3 numbers), but URBN clearly didn't get the boost that most other retailers got during December 2017. That isn't a bullish sign; but comps are still positive, gross margins still have rebound potential, operating expenses are still being levered, and the tax rate is still high.
Overall, the growth narrative surrounding URBN remains intact. Consequently, we believe URBN stock will bounce back from this sell-off over the next several months.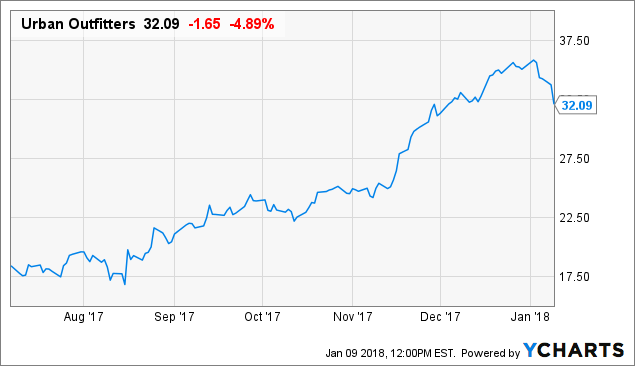 URBN data by YCharts
Urban's numbers weren't bad. They just weren't as good as everyone expected. Back in early December, URBN said that comps were trending in the up mid-single-digit range during the holiday period. But comps for November and December came in at just 2%, implying a massive slowdown as the brand neared Christmas.
That isn't shocking (clearly, most teens and Urban shoppers did all their shopping during Black Friday weekend), but it isn't bullish to see that the November/December numbers didn't improve from the third quarter. Excluding the impact of hurricanes, third-quarter comps also rose 2%. This lack of acceleration was true across all the company's brands (Free People, Anthropologie, and Urban Outfitters), where comparable sales growth in November and December was consistent with third-quarter comps.
This lack of sales acceleration against a very strong consumer spending backdrop is causing URBN stock to fall. That gut reaction makes sense.
But in the bigger picture, URBN stock is still a winner. After a string of quarters with negative comps, comps have finally turned positive and look like they will stay in positive territory into the foreseeable future (numbers didn't get better during the holiday season, but they also didn't get worse). Sales growth in the 3-4% range is here to stay.
Meanwhile, gross margins are under pressure due to higher DTC expenses and higher markdowns. But retailers by and large are reporting that promotional activity has lessened recently, and we expect URBN's gross margins to bounce back some over the next several years due to markdown volume reduction. Gross margins, however, won't return to their high-30s peak because higher DTC expenses are here to stay. Consequently, we are looking at a few hundred basis points of gross margin expansion potential.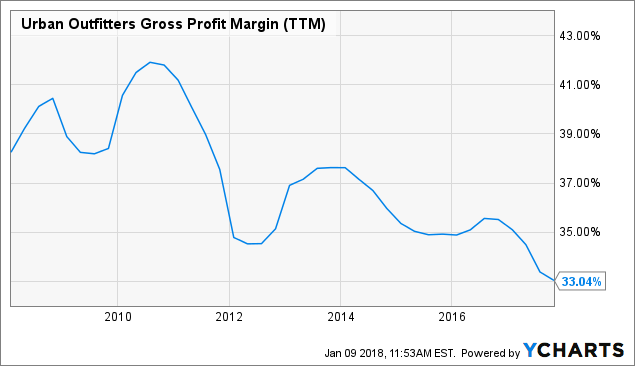 URBN Gross Profit Margin (TTM) data by YCharts
Solid top-line results are fueling healthy operating expense leverage. This trend should continue so long as comps remain in positive territory. The leverage won't be large, but it should be roughly 100-200 basis points over the next several years.
URBN is also buying back shares, which should add fuel to earnings growth. Altogether, 3-4% revenue growth, a few hundred basis points of margin expansion, and share buybacks should drive around 10-15% earnings growth in the long term. The Street is at 15%, but we believe 12.5% is a more appropriate estimate.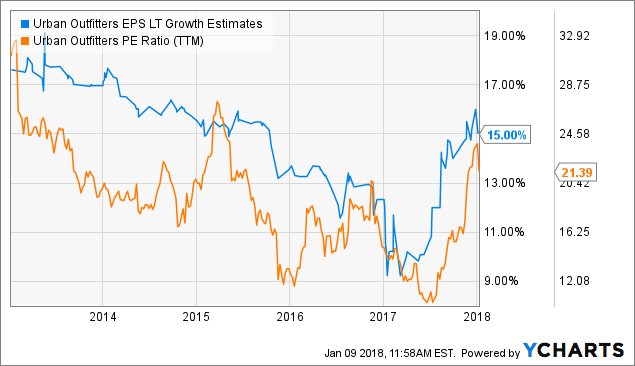 URBN EPS LT Growth Estimates data by YCharts
Currently, the S&P 500 is trading at an 85% premium to its growth prospects (20.9x current year earnings for 11.3% growth into 2019). Given URBN's effective tax rate has hovered around 35% for the past several years, URBN stock easily deserves a premium around 100%. With our growth estimate hovering around 12.5%, that implies a fair earnings multiple of about 25x.
A 25x multiple on this year's earnings estimate of $1.59 implies a "fair" value of nearly $40. We believe this is where URBN stock will trend over the next several months as tax reform and long-term earnings growth optimism outweigh near-term holiday sales pessimism.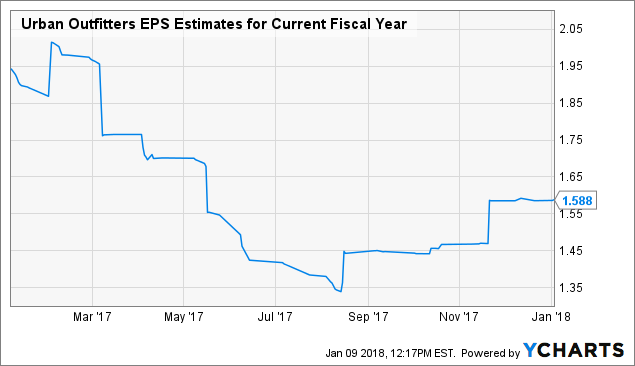 URBN EPS Estimates for Current Fiscal Year data by YCharts
Disclosure: I am/we are long URBN.
I wrote this article myself, and it expresses my own opinions. I am not receiving compensation for it (other than from Seeking Alpha). I have no business relationship with any company whose stock is mentioned in this article.
About this article:ExpandAuthor payment: Seeking Alpha pays for exclusive articles. Payment calculations are based on a combination of coverage area, popularity and quality.Tagged: Investing Ideas, Long Ideas, Services, Apparel StoresWant to share your opinion on this article? Add a comment.Disagree with this article? Submit your own.To report a factual error in this article, click here