Introduction
I decided to test my "Better than Average" stock selection system on US restaurant stocks which pay a dividend. You might wonder why I picked the US restaurant sector, which is certainly facing headwinds: a stagnant economy resulting in declining restaurant visits, increasing costs from upward minimum wage pressure and a very competitive market (discounted prices and lots of choices for customers). Since the beginning of 2016, the S&P 500 index has increased 6.4% but a basket of 51 US restaurant stocks has decreased 6.9%. If we look at the subset of the 22 dividend-paying restaurant stocks, their average price has increased 8.4%, while the subset of 29 non-dividend-paying stocks has decreased 18.6% in price. The following chart illustrates the importance of differentiating between dividend-paying and non-dividend-paying US restaurant stocks when evaluating performance. There are a number of very troubled companies in the non-dividend-paying group.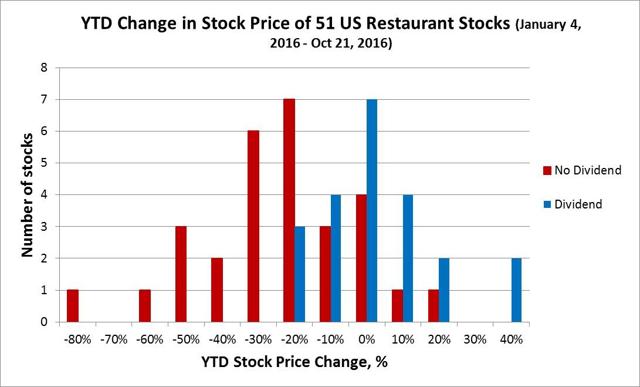 Click to enlarge
Last year I wrote an article about Darden Restaurants (NYSE:DRI). At the time, I had not developed my "Better than Average" stock selection system but I did research the restaurant sector and my conclusion was that Darden was the best investment opportunity. So now, when I wanted to test my "Better than Average" selection system, I chose this sector due to familiarity.
There are a few things about the US restaurant industry that are worth repeating:
1. The economy is still struggling and a number of restaurants have flat or declining business and average visits to restaurants are down.
2. The stock market is currently overvalued and dividend restaurants reflect that, so it may not be easy to find good investment opportunities.
3. The restaurant sector is diverse. It includes everything from fast food and coffee shops to full service and moderately fancy dining. It also includes large, medium and small companies.
4. Many restaurants are fighting declining customer visits by offering specials and discounts and only some will be successful with this strategy.
Given the above, what in general am I looking for in restaurants?
1. Consistent dividends
2. Growing, or at least relatively stable, customer base.
3. Well-managed companies with a clear focus. They must know their customers and they must adjust to economic conditions
4. Company-owned restaurants rather than franchises, for both management effectiveness and financial clarity reasons.
My view is that even though the economy is tough and a lot of people are struggling, going out to eat will persist as a form of entertainment. People will choose wisely, though: good quality and good value. I am not as pessimistic about the restaurant industry as many are. I like the full service, casual dining sector especially, since I think that many people on modest incomes consider this to be more of a treat than fast food.
"Better than Average" Selection System Method
The "Better than Average" dividend stock selection system is a screening method for picking prospective individual stocks from stock groups of interest. The stock group could be the broad index, e.g. S&P 500 or it could be sub-sectors. The system probably works best with groups of stocks in a common sector, but I haven't proved that yet. The system uses four metrics, one from each of four stock evaluation areas: for valuation it is PEG; for dividend performance it is DY; for profitability it is ROE; and for leverage it is DEBITDA. The group average of these four metrics is used as the selection threshold with the criterion being "better than average."
I used the globeinvestor.com database at close of day October 21, 2016, as the source of information for the selection process. There are over 50 publicly traded US restaurant stocks, but currently there are only 22 that pay dividends. Here is the list of 22 dividend-paying stocks.
| | | | | |
| --- | --- | --- | --- | --- |
| Company | Ticker | | Company | Ticker |
| Ark Restaurants | (NASDAQ:ARKR) | | Jack In The Box | (NASDAQ:JACK) |
| Bloomin' Brands | (NASDAQ:BLMN) | | McDonald's | (NYSE:MCD) |
| Bob Evans Farms | (NASDAQ:BOBE) | | Papa John's International | (NASDAQ:PZZA) |
| Brinker International | (NYSE:EAT) | | RCI Hospitality Holdings | (NASDAQ:RICK) |
| Cheesecake Factory | (NASDAQ:CAKE) | | Restaurant Brands International | (NYSE:QSR) |
| Cracker Barrel Old Country | (NASDAQ:CBRL) | | Ruth's Hospitality Group | (NASDAQ:RUTH) |
| Darden Restaurants | (DRI) | | Sonic | (NASDAQ:SONC) |
| DineEquity | (NYSE:DIN) | | Starbucks | (NASDAQ:SBUX) |
| Domino's Pizza | (NYSE:DPZ) | | Texas Roadhouse Inc. | (NASDAQ:TXRH) |
| Dunkin' Brands Group | (NASDAQ:DNKN) | | Wendy's Company (The) | (NYSE:WEN) |
| Flanigans Enterprises | (NYSEMKT:BDL) | | Yum! Brands | (NYSE:YUM) |
Click to enlarge
The thresholds (averages) for the 22 stocks as of October 21, 2016, were:
PEG=<1.71
DY=>2.25
ROE=>9.6
DEBITDA=<2.4
Results
There were only three stocks that beat the averages for all four criteria:
Ark Restaurants
Bob Evans Farms
Darden Restaurants
Here are the key stock metrics for ARKR, BOBE and DRI, compared to the average of the 22 dividend-paying restaurant stocks.
Comparison of ARKR, BOBE and DRI metrics with the restaurant sector as of October 21, 2016.
| | | | | |
| --- | --- | --- | --- | --- |
| Metric | Ark Restaurants | Bob Evans Farms | Darden Restaurants | Average of 22 US Restaurants* |
| | | | | |
| Stock price (Sep 9), $ | 20.51 | 40.50 | 63.07 | 58.18 |
| 52 weeks high, $ | 24.32 | 48.24 | 68.68 | 65.30 |
| % of 52 weeks high, % | 84 | 84 | 92 | 89 |
| Market cap, $ million | 70 | 801 | 7,961 | 12,759** |
| | | | | |
| PEG | 1.1 | 1.71 | 1.39 | 1.71 |
| PB | 1.66 | 3.67 | 4.42 | 14.8 |
| Total 1-year return, % | -6.32 | -3.75 | 15.93 | 11.0 |
| Total 5-year return, % | 14.43 | 7.83 | 11.62 | 21.3 |
| Dividend Yield, % | 4.88 | 3.36 | 3.55 | 2.25 |
| Dividend Payout Ratio, % | 70 | 80 | 75 | 42 |
| Dividend Growth 1 year, % | 0 | 6.3 | 7.8 | 13.7 |
| ROE 1 year, % | 12.4 | 13.4 | 21.3 | 9.6 |
| DE | .2 | .02 | .24 | 4.3 |
| DEBITDA | .64 | .03 | .48 | 2.4 |
Click to enlarge
* not weighted
** skewed by McDonalds (MCD) and Starbucks (SBUX)
Investment Cases for Ark Restaurants, Bob Evans Farms and Darden Restaurants
Simply by making the cut, all three companies have solid metrics: they are not overvalued, they have respectable dividends, they have a profitable return on equity and they are not overleveraged. Also, there is nothing of concern in the other metrics shown in the above table. They are also not trading at their 52-week highs, but neither is the group index.
The other thing to note is that these three restaurants have very little in common. They are all in the casual dining sector and are all company-owned (as opposed to franchise), but they have very different sizes, geographies and business models.
Ark Restaurants
Ark Restaurants is a small restaurant company based in New York City. They have 21 restaurants, 19 fast food outlets and 6 catering operations. They have emphasized developing unique restaurants rather than multi-restaurant brands. In recent years they transitioned from an Upper East Side Manhattan group of restaurants to a series of national destination restaurants – first at casinos in Las Vegas and Atlantic City and more recently into Florida and a few other casino and resort markets. This is probably a good strategy since they have tapped into a captive market: People need to eat in restaurants when they go to casinos and resorts.
Even though it is a public company, Michael Weinstein, the founder, is the CEO and largest shareholder and he certainly is instrumental in operating the business. The company has grown organically and carefully. The main motivation is certainly to make money, and you can tell that by reading the annual reports and looking at the company history, but there is also a motivation to develop interesting and high quality operations. A love of the restaurant business is a key driver, so they deserve credit for passion about their business.
Current Situation
Success has bred challenges. They have had to close a number of their casino restaurants due to lease non-renewal, and this has had a negative effect on earnings. Their solution is to buy the properties where they intend to operate restaurants – they have done this recently in Florida, New York and Las Vegas.
There are a couple of things in the wind. They have recently partnered with a company to purchase Meadowlands Race Track in New Jersey. The intention is to add casino gambling to the racetrack, and thereby create a model similar to the Las Vegas and Atlantic City casino restaurants. Meadowlands is not currently licensed for casino gambling and the question will be put to a full state referendum in November 2016. Ark Restaurants has already said that they will withdraw from Meadowlands if the casino is not approved.
Things to Like About Ark Restaurants
1. I like the quality of the food. I remember eating at their open floor restaurant at Union Station in Washington and really liking the food and service. My impression is that they know how to run a good restaurant.
2. I like that Michael Weinstein, the founder of the restaurant, owns 30% of the shares and total company insider ownership is 45%. This makes management reliant on dividends as a major portion of their income which makes the dividend pretty stable.
Things to Not Like About Ark Restaurants
There is not a lot of growth potential. They are basically a family run company with limited ambition to grow big. I can respect that; it simply means that if you invest in this company, it is mostly for the steady dividend – not the growth potential.
Conclusion and Target for Ark
The stock has low volume (sometimes less than 1000 shares per day) so if you want to buy several thousand shares of this $20 stock, then you will have liquidity problems. On the other hand, if you only want a few hundred shares of a stock that will pay a reliable dividend with low risk, then this might be a stock to consider. Myself, I would be happy with a 300 to 500 share holding so it is fine for me. Another positive is that the beta on ARKR is quite low – less than half of the 22-stock index beta.
Bob Evans Farms
Bob Evans is an $800 million company (10X larger than Ark Restaurants) based in New Albany, Ohio, with about $1.7 billion in sales. They have approximately 520 restaurants in 18 states, mostly in the central and eastern US. They are much more than a restaurant company, however; they also have a food manufacturing business, BEV Foods. It initially started producing pork sausages but has developed into a mature, multiproduct food manufacturing and distribution business with good brand loyalty. BEV Foods is actually the most profitable part of Bob Evans. It has less than 1/3 of Bob Evans' sales but it generates 2/3 of total company operating income.
The restaurants are known for their breakfasts, which they serve all day. Their average per-customer bill is <$8 (for each of breakfast, lunch and dinner). This is pretty good value for full service meals, and it shows that they are targeting a price-sensitive clientele. Their menu can probably best be described as mid-western, family comfort foods. As such they have a steady and loyal customer base. Count me as one of them. Even though I don't live anywhere near a Bob Evans, I have eaten breakfasts and dinners there when I have traveled through the central US and I like the food and ambiance.
Current Situation
Bob Evans has been struggling recently with a loss in Q4 2015/16 and recently reported decreases in per-restaurant sales. They have a new CEO as of January 2016 and changes are afoot. They have closed a number of poor performing restaurants and have reduced staffing costs. They are selling some restaurant properties which they will lease back. They are changing their menus. They are also under pressure to separate the restaurant and BEV business, and the new CEO appears willing to consider it. See the recent news release from Sandell Asset Management which owns approximately 5% of Bob Evans shares. Sandell estimates that the value of two separate companies would be between $57 and $66 depending on how the split was structured. The current price for Bob Evans is about $40, so there is significant upside potential. Buying Bob Evans shares on expectation of a split is more of a speculative than investment decision.
Things to Like About Bob Evans
1. I like their small geography for their market – it indicates focus. Their target geography is good.
2. I like the all-day breakfast idea. McDonalds has gone this route too.
3. I like their price point. Average bill is <$8 and their most expensive dinner item (sirloin steak dinner) is <$14. Most full course dinners <$10. For middle and lower income people that want to eat out at a good family restaurant with full service – this fits the bill. They are comparable to a Perkins and Denny's restaurant, but I like the food better at Bob Evans.
4. I like that they own and manage their restaurants rather than franchise them.
5. They have a good dividend.
6. I like the potential value increase from splitting the restaurant and food manufacturing businesses.
Things to Not Like About Bob Evans
1. I don't like the overall trend for breakfast road restaurants given that many hotels now supply free breakfasts.
2. Bob Evans has limited growth potential in their geography. I doubt whether they will be comfortable expanding across the US and I doubt that is their plan.
3. Uncertainty whether their new menu will help, or perhaps even hurt.
4. Their recent metrics on per-restaurant income and customer number trends have not been good.
5. The original ownership/management is gone and they are more under the influence of corporate managers and activist investors. New management has not proven itself yet.
Conclusion and Target
The stock price is at the low end of the range and this is due to their weak performance. Their recent guidance is for higher income but the market had a lukewarm response to the guidance. Normally I wouldn't invest in a company like Bob Evans given the trends, but I do think that there is potential value in splitting the restaurant and food manufacturing businesses so I do think that there is a speculative opportunity. I do not have high growth expectations for either the restaurant or food manufacturing businesses.
Darden Restaurants
Darden Restaurants is an $8.0 billion dollar market cap company (about 10 X larger than Bob Evans, and about 100 X larger than Ark Restaurants) based in Orlando, Florida. In fact, they are the largest full service restaurant chain in the world with more than 1500 locations. Their main brand is the casual dining Olive Garden chain (843 locations), but they have a number of other brands as well, the next largest of which is Longhorn Steakhouse with 481 locations.
Current situation
Two years ago they were struggling but in late 2014 and during 2015 they completed a big turnaround under the influence and direction of activist investor Starboard Value. The Board of Directors was completely replaced and management was refocused. The real estate was spun off into a REIT. The stock price went from about $40 two years ago when Starboard got involved to over $68 recently (plus an extra $6 for the new REIT). It has fallen a bit recently but the fundamentals are strong. So far in 2016 both total sales and per unit restaurant sales have shown increases of 4.4% and 3.3% respectively. At a time when many restaurants are suffering from declining sales and profits, Darden continues to perform well. They are the biggest and the best!
In January 2016, Starboard Value started selling their shares. I figure that they made about 80% profit on their investment, and it was time for them to take the profit and move on to the next acquisition. Starboard Value had about 11 million shares in late 2015. As of the end of June, 2016, they had reduced their holding to less than 4 million shares, and I am guessing that it is probably less than that now. I sold half my shares when Starboard Value started to unload in January (as I said I would do in my Darden article), but I intend on holding my remaining shares long term due to the good dividend yield and confidence that management is still on the right track.
Things to Like About Darden Restaurants
1. I like Olive Garden. It is the only Darden restaurant that I have been to. It is certainly not the best Italian food, but it is certainly good.
2. They are focused ("laser like" according to the CEO) on cost reduction and enhancing customer experience.
3. They are very innovative and supportive of staff suggestions.
Things to Not Like About Darden Restaurants
1. They are not undervalued.
2. In a way, it is unfortunate that Starboard Value has moved on, since I think that the main risk is losing focus. Their CEO Gene Lee has his eye on the ball, but I worry that if management changes, that they could lose focus and start to do dumb things such as developing new restaurant concepts, etc. which generally worked out badly in the early days of the company.
Conclusions and Target
Given that they went through a major turnaround and re-focus, and that performance continues to be good, I continue to like Darden as an investment. In my own case, I will not buy more shares since I already have enough for my portfolio balance. If there was a chance of a major increase in share price, then I would consider buying more. As it is, I regard them as a stable to slowly growing company that pays a good dividend.
Ranking of ARK, BOBE and DRI
So, of the three, which company do I like the best? Let's look at one more comparison between the companies: revenue and income per employee. I like companies that have fewer employees to generate income, since it is a measure of business efficiency. Also, less of the business is tied up in salaries and pension obligations.
Table. Employee efficiency generating sales and profit
| | | | |
| --- | --- | --- | --- |
| Metric | Ark Restaurants | Bob Evans Farms | Darden Restaurants |
| | | | |
| Number of employees | 2000 | 45,000 | 150,000 |
| Revenue, $ million | $150 | $1300 | $6900 |
| Net income, $ million | $8 | $24 | $375 |
| | | | |
| Revenue/employee, $ | $75,000 | $28,000 | $46,000 |
| Net income/employee, $ | $4,000 | $500 | $2,500 |
Click to enlarge
From the above table it is clear that Ark Restaurants is much more efficient than Bob Evans and Darden in generating revenue and income per employee. Bob Evans is the least efficient.
Based on the metrics (especially valuation and dividends), I rank the companies in the following order as investments. Investment ranking is not correlated with predicted total return due to risk considerations.
| | | | |
| --- | --- | --- | --- |
| Company | Rank | Target Price | Target total 1-year return |
| | | | |
| Ark Restaurants | 1 | $25 | 13% |
| Bob Evans | 3 | $60 | 65% |
| Darden Restaurants | 2 | $70 | 18% |
Click to enlarge
Should you buy these stocks? In my case, the answer is yes for Ark and Darden, and given that I think that there will be a market correction, I would suggest buying only 1/3 to 1/2 of a position now and the rest after the market downturn. Even though I have the highest target price increase for Bob Evans, I do not recommend buying them as an investment. The target price is based on splitting the company. If that doesn't happen, then I am expecting a decrease in Bob Evans stock price to $30. This is a speculative play only.
By the way, I own shares in every company that I recommend in my Seeking Alpha articles. That is my "skin in the game." If I find a stock that I like and write about it for Seeking Alpha, then I will buy shares before the article is published. Of the restaurant stocks mentioned in this article, I own shares of ARKR, BOBE, DIN and DRI.
Disclosure: I am/we are long ARKR, BOBE, DIN, DRI.
I wrote this article myself, and it expresses my own opinions. I am not receiving compensation for it (other than from Seeking Alpha). I have no business relationship with any company whose stock is mentioned in this article.
Editor's Note: This article covers one or more stocks trading at less than $1 per share and/or with less than a $100 million market cap. Please be aware of the risks associated with these stocks.