Article thesis
In about two weeks Gilead (GILD) will report its fourth-quarter results, and I believe that the company has a good chance of beating estimates once again. With tailwinds such as the Yescarta roll-out and the approval of Sovaldi in China Gilead does not have a bad outlook at all, and due to a big cash pile and a low valuation Gilead has merit as a long-term investment.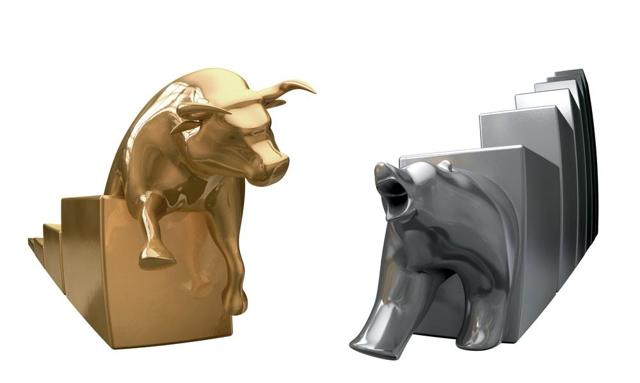 Reality versus analysts
Analysts are not perfect and when it comes to assessing Gilead's profitability they seem to have a clear bearish bias: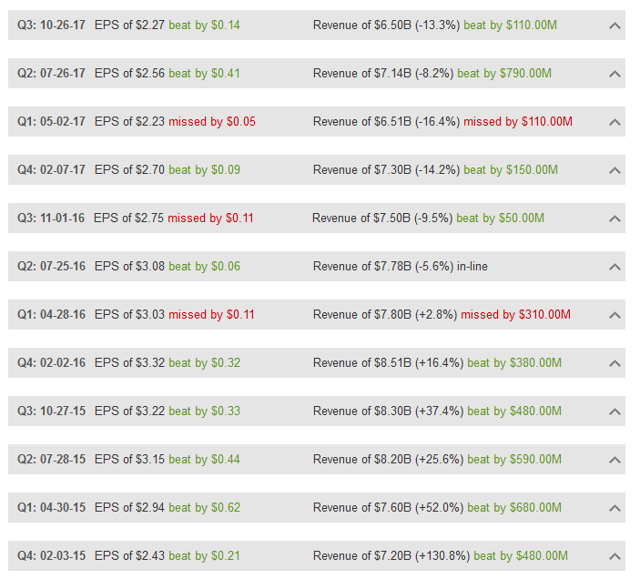 Source: Seeking Alpha
Gilead has missed the analyst consensus only three times over the last three years and was able to beat the consensus EPS number clearly in many cases, including the most recent quarter.
For the fourth-quarter earnings results, which will be released on February 6, analysts are quite pessimistic as well: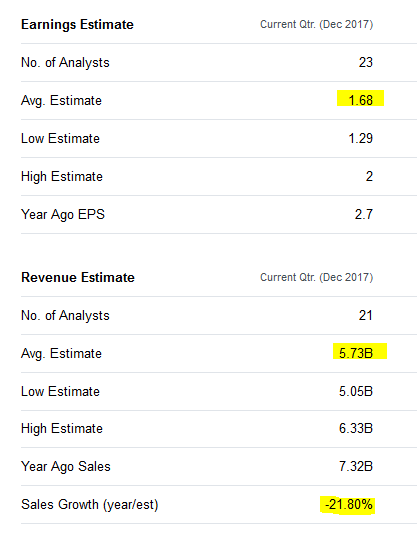 Source: Yahoo finance
Analysts are forecasting EPS of $1.68 and sales of $5.73 billion. Gilead's earnings will be impacted by expenses accrued during the takeover of Kite Pharma during the third quarter (although Gilead will likely exclude at least some of those expenses in its non-GAAP numbers), thus I will focus on the revenue estimate as that is more relevant for the quarter.
In Q3 Gilead produced net sales of $6.5 billion, which was significantly higher than what analysts expected, but still down year over year: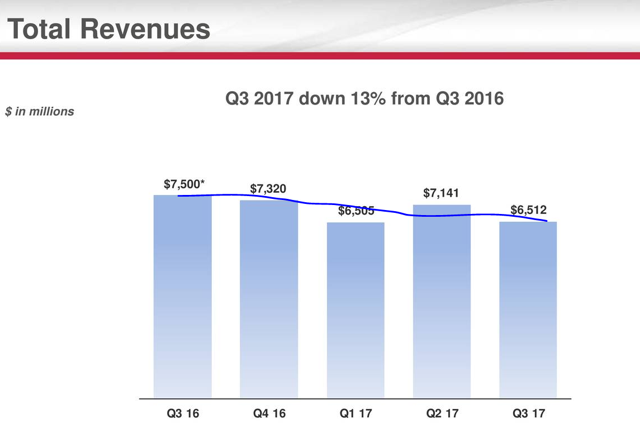 Source: Gilead investor presentation
We see a clear downtrend in Gilead's sales, but if I'm being honest I don't see how analysts are getting to an estimated $5.7 billion in sales – the average quarter-to-quarter decline over the last year was $250 million and that decline would have to triple for Gilead's top line to hit the analyst consensus.
Since Gilead has become a lot less dependent on HCV sales over the last couple of quarters, the declines in this segment are unlikely to spur such a big overall decline rate, especially since other segments of the company's operations are growing steadily:


Source: Gilead investor presentation
If Gilead's HIV/HBV sales continued to grow by 2% quarter-to-quarter, whilst HCV sales dropped by another 23%, Gilead's total sales would decline to $6.0 billion. We should then also add in about $100 million in other revenues, derived from royalties and other sources:


Source: Gilead's most recent 10-Q
We thereby get to a $6.1 billion revenue target when we assume that the decline in Gilead's HCV sales continued at the Q3 pace – substantially more than what analysts are forecasting.
More positives for Gilead's top line
There are some positive factors that could lead to an even higher revenue number though:
The first one is Yescarta, which was approved in the US on October 18. This drug can be used to treat patients with relapsed or refractory B-cell lymphomas. The CAR-T drug costs about $370,000 per patient (in the US), thus even a moderate amount of treated patients would meaningfully impact Gilead's top line (a total of just 270 patients in one quarter would boost that quarter's revenues by another $100 million).
The other tailwind that could boost Gilead's revenues is the Chinese HCV market: Sovaldi has been approved in China at the end of September, thus sales in the country could not impact Q3 numbers yet, but could have a positive impact on Q4 numbers.
Last but not least, currency rates will very likely positively impact Gilead's revenue numbers: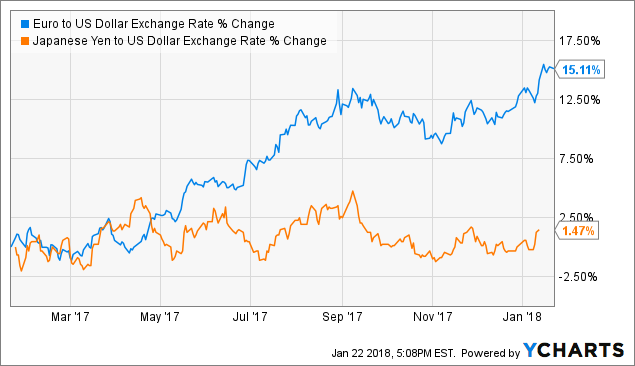 Euro to US Dollar Exchange Rate data by YCharts
The dollar has marginally weakened versus the yen and meaningfully weakened against the euro. Since Japan and Europe are the most relevant international markets for Gilead, that could lead to forex gains. Let's look at an example:
1 billion in sales in Europe would have meant a $1.06 billion net positive impact on Gilead's top line one year ago, but the same 1 billion sales in Europe would now increase the company's revenues by $1.22 billion. Since Gilead has produced sales of about $1.1 billion in Europe in Q3, the above example outlines how forex rates could positively impact Gilead's top line by about $160 million in the upcoming results.
All in all, it looks like Gilead could beat the analyst consensus once again since the forecasted revenue number assumes a very steep sales decline and does not factor in any tailwinds Gilead's revenues should benefit from.
After the Kite Pharma acquisition Gilead still has a lot of cash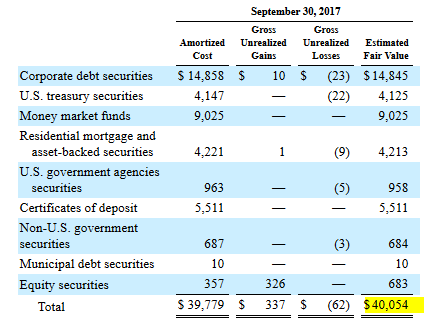 Source: Gilead's most recent 10-Q
At the end of Q3, Gilead held about $40 billion worth of cash and equivalents on its balance sheet, most of that in the form of (rather low-yielding) corporate & government bonds.
The company has spent $12 billion of that to acquire Kite Pharma, but has produced at least $2 billion in cash flows during the fourth quarter. Thus we can assume that Gilead currently has about $30 billion of cash and investments on its balance sheet.
The one-time tax on foreign cash that was included in the tax reform legislation will mean that Gilead can use the majority of that cash in the US now, thus the company has tens of billions of dollars on its hands that Gilead could spend for more M&A or other purposes. Galapagos (OTC:GLPGF), with which Gilead is developing Filgotinib, is a possible target, valued at $5 billion right now – one that Gilead could easily swallow even at a high premium. Gilead could, on the other hand, also try to further establish itself as an oncology player by making another acquisition in this space in addition to the recent Kite Pharma deal.
Gilead also has the option to pay down debt aggressively (i.e., by repurchasing its own bonds) in order to lower its interest expenses and to strengthen its balance sheet further, although I believe this is a less likely move by Gilead's management.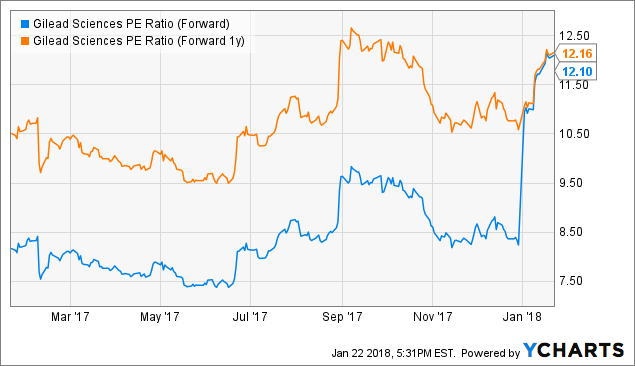 GILD P/E Ratio (Forward) data by YCharts
If analyst estimates are correct Gilead trades for 12 times forward earnings right now, which isn't a high valuation at all – when we further account for the fact that analysts have usually been too conservative when assessing Gilead's earnings, the valuation looks even lower.
Since HCV sales have become less important for Gilead over the last year, and since there are several growth factors in place (such as Yescarta and Gilead's continuing growth in the HIV space), I believe that such a low valuation is not justified. I therefore see Gilead as an attractively priced long-term investment right here.
Takeaway
Analysts are forecasting a steep revenue decline, but those estimates are likely too bearish, as Gilead's Q4 revenues will have benefitted from several tailwinds (such as Yescarta, forex rates and Sovaldi's approval in China).
The company has a lot of cash on its balance sheet even after the Kite Pharma deal and trades at a steep discount to the broad market. I thus believe that shares of the company are worthy of a closer look (despite a solid performance over the last couple of weeks).
Author's note: If you enjoyed this article and would like to read more from me, you can hit the "Follow" button to get informed about new articles. I am always glad to see new followers!
Disclosure: I am/we are long GILD.
I wrote this article myself, and it expresses my own opinions. I am not receiving compensation for it (other than from Seeking Alpha). I have no business relationship with any company whose stock is mentioned in this article.
About this article:ExpandAuthor payment: Seeking Alpha pays for exclusive articles. Payment calculations are based on a combination of coverage area, popularity and quality.Tagged: Investing Ideas, Long Ideas, Healthcare, BiotechnologyWant to share your opinion on this article? Add a comment.Disagree with this article? Submit your own.To report a factual error in this article, click here