Introduction – Railroads as an Investment Option
Railroads – many of us cross over tracks everyday on our commute to work each day and some of us actually taking a train on a daily basis perhaps. Railroads have been around for a long time, moving all sorts of cargo from coast to coast. Railroad stocks took it on the chin not too long ago due to coal weakening and oil production being cut in conjunction with increased utilization of pipelines to transport gas and oil, but public railroad stocks can be an exceptional investment option in a growing economy as they move many materials and goods. They may not be an exciting investment but they sure can be effective – take a look at the chart below. Over the past five years, Union Pacific Corporation (NYSE:UNP), CSX Corporation (NYSE:CSX), and Canadian National Railway Company (NYSE:CNI) have all outperformed the S&P by as much as 58%.
Source: Yahoo Finance
Breaking Down the Three – CSX Corporation
CSX Corporation is the third largest Class I railroad in the United States that operates mainly on the east coast with its business divided into three main segments of bulk materials, merchandise, and intermodal. The company has seen its stock price skyrocket over 100% this past year, thanks partially to a new CEO, E. Hunter Harrison, who has a long and proven track record of successfully leading rail companies. In the company's most recent earnings, sales reached $2.87 billion, an improvement of almost 10%, and nearly two times the growth rate that was expected.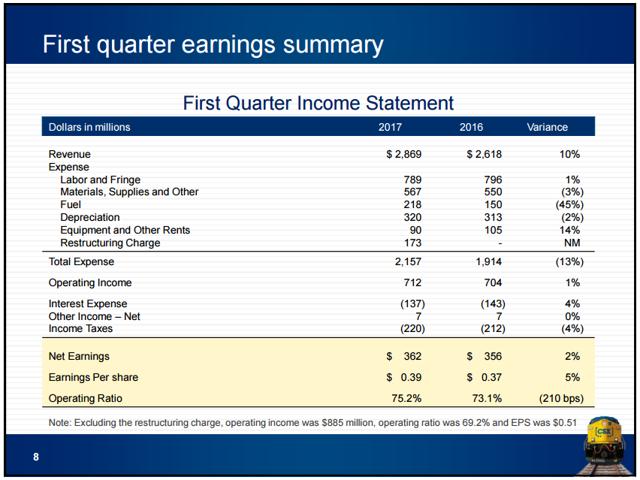 Source: Company Presentation
Harrison expressed confidence in the outlook for the company, expecting it to continue building on its strong Q1 performance by driving improvements and expecting the volume outlook for 2Q to be mostly favorable, supporting the bullish outlook for the full year's expectations of growing EPS approximately 25% and increasing FCF to $1.5 billion with return to shareholders increasing via a dividend boost of 11% to $0.20 and a $1 billion buyback program over the next 12 months.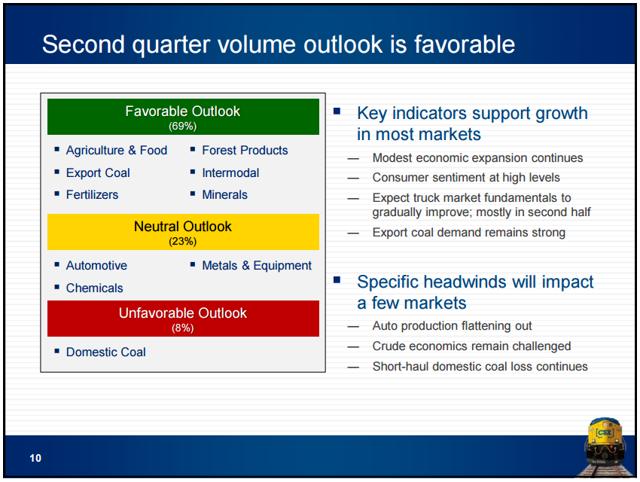 Source: Company Presentation
Breaking Down the Big Three – Union Pacific Corporation
Union Pacific Corporation is the oldest of the three railroads in this article, being founded in 1862, and operates heavily in the western portion of the United States and running through over 20 states. The company had an ugly 2015 to say the least due to the absence of an energy rebound which management had hoped would spur a comeback. Fortunately, 2016 hosted a rebound in both oil and commodity prices, and the company increased its dividend 9% while seeing volumes return.
Looking at the company's Q1 performance in 2017, EPS rose 14% from $1.16 to $1.32, and the company reported approximately $90 million in cost savings and a 2% volume growth. But even with the combined efforts of cost cutting and a slight uptick in volume, the operating ratio remained flat at 65.1%.
Source: Earnings Slides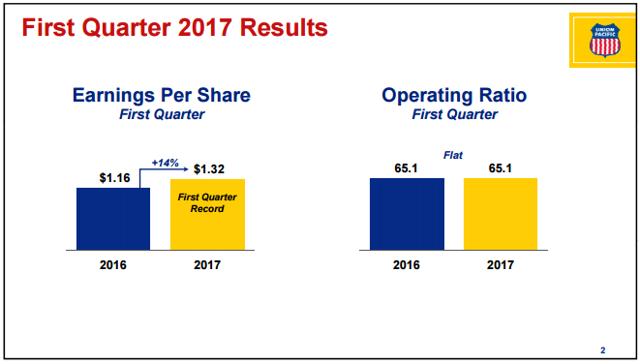 Source: Earnings Slides
The volume outlook for 2017 for Union Pacific as shown in its Q1 slides is not totally clear as it seems to have a mix of feelings ranging from a bullish, to bearish, to unsure. And the company as a whole is hoping to achieve an operating ratio of 60% with low-single-digit volume growth.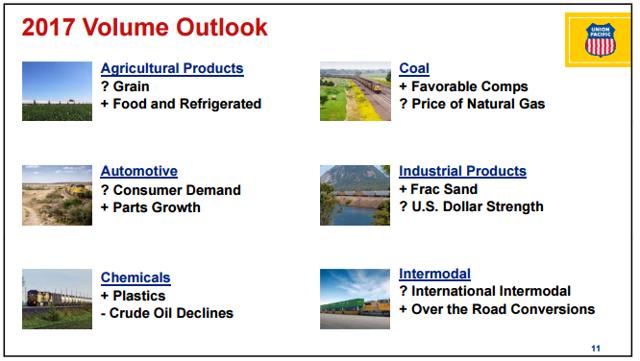 Source: Earnings Slides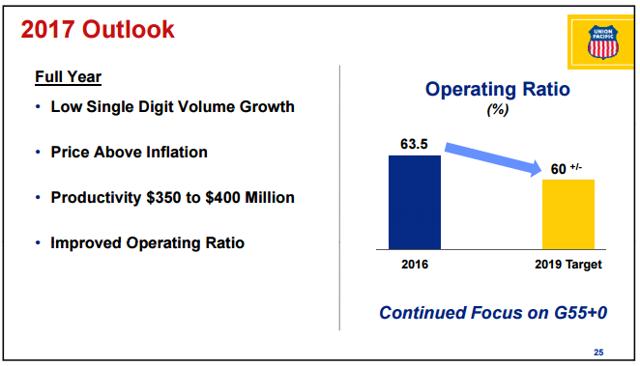 Source: Earnings Slides
Breaking Down the Big Three – Canadian National Railway Company
Canadian National Railway Company operates 20,000 miles of track across Canada and the United States of America, reaching from the coasts of the Atlantic and Pacific oceans down to the Gulf of Mexico, and has access to all three countries in North America. CNI classifies its operations into three main categories of bulk, merchandise, and intermodal – similar to CSX.
CNI had a strong showing in Q1 of 2017, with productivity and volume improvements all leading to an operating ratio of 59.4%. Starting with the top line, the company saw increased train and yard productivity as well as increased utilization, but did however experience some decreases in car and train velocity compared to Q4 of 2016.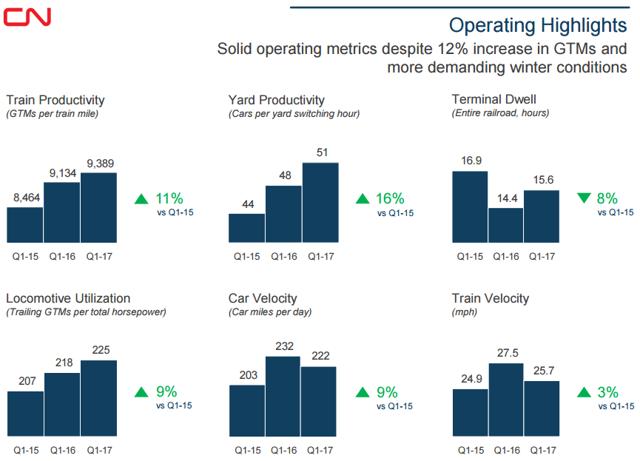 Source: Financial Results
On the top line, CNI saw its revenue ton miles (RTMs) increased in all three segments though forest products did have pullbacks in both RTMs and carloads, and coal reducing only in carloads, which is not a surprise as coal's outlook is well known to be unfavorable, and if the heavy tariff on Canadian wood products is enacted by the United States, that surely will further affect CNI's volume in its forest products.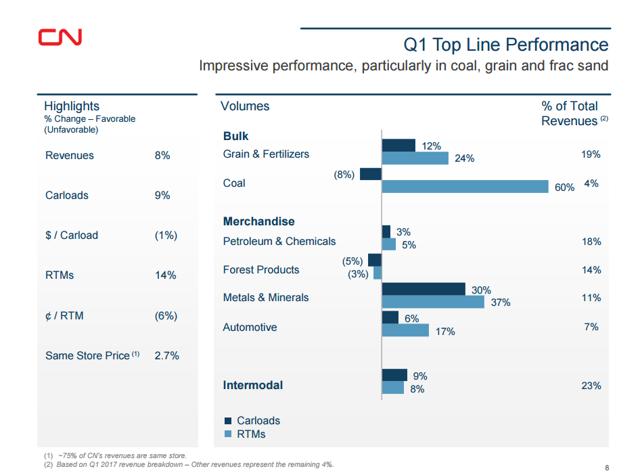 Source: Financial Results
With a solid Q1 in the books, the company issues a positive outlook for 2017 with the forecast of 10% RTM growth, thanks to expanded capacities and new terminals coming online this year, and it has a bullish outlook for energy-related volumes in Q2 as well as potash. With those factors, the company is now forecasting EPS ranging from C$4.95 to C$5.10, which is about a 10% boost when compared to 2016's C$4.59. Additionally, the company has also increased the dividend by 10% in January of this year.
Which Train Should you Hitch your Wagon To?
Now that we have a bit of background on each company, we'll look at some key metrics to help us narrow down our choices as to which one is the best investment option for the next three-plus years. Personally, I would choose Canadian National Railway, as it has proven to be an efficient operator and is the only one of the three with rail lines touching all three major coasts. CNI has do ubled its dividend compared to what it paid in the year 2000 – which is impressive for a cyclical stock, and with a positive outlook for 2017, CNI is my #1 pick.
That being said, CSX is a close second, or potentially #1, if the growth pans out and trends continue. With a new CEO at the helm who has demonstrated significant improvements in such a short time, the best may likely be coming still for CSX which has been increasing its efficiency and volumes. The reason however for me why it's #2 is that Forward P/E for CSX is 19.24 and CNI's is only slightly higher at 19.32. If I am paying the same price on future value between them, I'm choosing CNI for its historically proven ability to operate along with its operating margin of 43.96%, which is much higher than that of CSX at 31.54%.
Union Pacific is the caboose of the bunch. While it does have the highest dividend of 2.2%, it's not worth chasing compared to CSX's 1.49% or CNI's 1.67%. And while UNP has the lowest valuation metrics of the three (Forward P/E 17.08 and Trailing P/E 20.96), it also has the worst operating ratio of the group, 65.1%, and is lagging its peers. Unio n Pacific may turn things around and improve, but at current valuations, it's certainly not a bargain right now when I could pay a little more for what I believe are two better rail companies.
Disclosure: I/we have no positions in any stocks mentioned, and no plans to initiate any positions within the next 72 hours.
I wrote this article myself, and it expresses my own opinions. I am not receiving compensation for it (other than from Seeking Alpha). I have no business relationship with any company whose stock is mentioned in this article.
About this article:ExpandAuthor payment: $35 + $0.01/page view. Authors of PRO articles receive a minimum guaranteed payment of $150-500. Become a contributor »Tagged: Investing Ideas, Quick Picks & Lists, Services, RailroadsProblem with this article? Please tell us. Disagree with this article? Submit your own.Follow Caleb Jensema and get email alerts