Lowe's (NYSE:LOW) confirmed this past week that home improvement might be the one good story early this year in an otherwise struggling retail space. The company delivered a top- and bottom-line beat that sent the stock soaring +10% between Tuesday's session and the end of the trading week.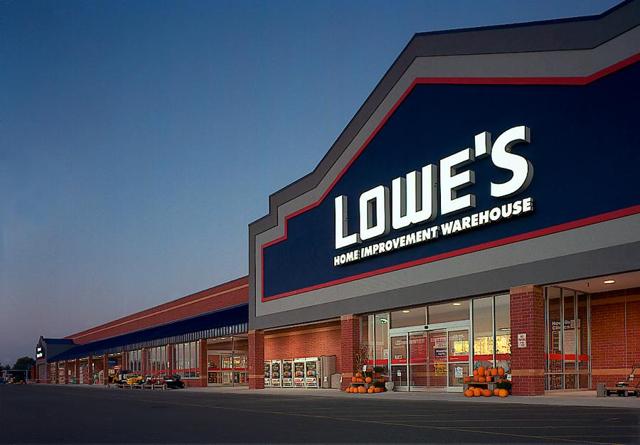 Credit: bltproductions.com
The strong performance was reported not long after peer Home Depot (NYSE:HD) released its own 4Q beat, on February 21st. Today, I look at both companies and try to decide which stock seems to be the most compelling buy between the two.
More similarities than differences
The table below highlights some of the key metrics that I pay attention to when assessing the health of a business or attractiveness of a stock.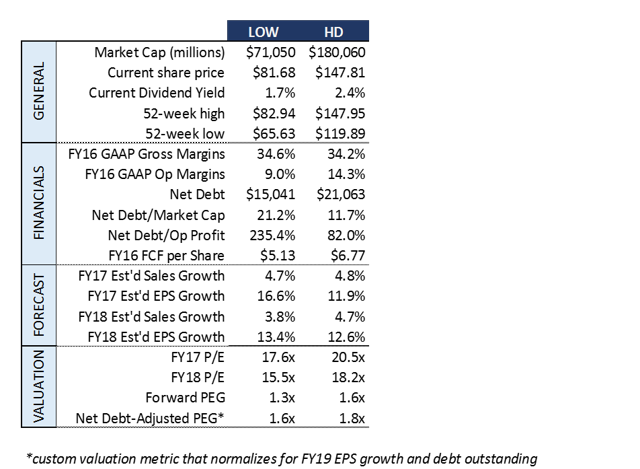 Source: DM Martins Research, using data from company press releases and Yahoo Finance
Before going into any detail, I would point out that there are remarkably more similarities than fundamental differences between the two companies. This may not come as a surprise, as the undisputed numbers 1 and 2 players in the home improvement industry serve a very similar customer base and offer a similar selection of goods and services.
Gross margins are nearly identical, although Home Depot seems to have been doing a better job managing opex and producing better op margins lately. In my Home Depot earnings review, I expressed my concerns over the company's high levels of debt, which have been increasing consistently since the end of the 2008 recession (see graph below). But Lowe's is relatively much more indebted than its peer, with net debt reaching over 230% of the company's FY16 op profits and 20% of market cap (vs. Home Depot's 82% and 12%, respectively).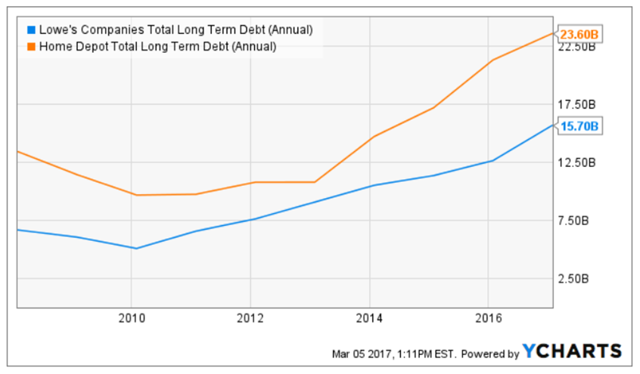 Source: YCharts
Peeking into the next couple years, it looks like the Street is expecting both retailers to perform very much in line, with revenues forecasted to go up in the mid-single digits in both cases. Home Depot has called for comparable store sales growth to reach 4.6% in FY17, compared to Lowe's 3.5%. On an EPS basis, Lowe's should grow a bit more aggressively, at the mid-teen level vs. Home Depot's low teens, as the North Carolina-based company expects to play catch-up and improve op margins in FY17 by 120 bps, including extraordinary items.
On valuation, LOW appears to be more conservatively priced by a few turns on a P/E basis: 17.6x compared to HD's 20.5x. But once the higher debt levels are taken into account, the difference becomes less meaningful. And considering Home Depot's recently revamped dividend policy, which now generates a yield of 2.4% that is 70 bps better than Lowe's, I see both stocks priced very similarly.
In my assessment, the winner is Home Depot
In the end, I believe HD to be the best buy in the home improvement space, although by a narrow margin.
I believe the stock's more aggressive valuation justifies the company's more conservative debt levels and more enticing and shareholder-friendly dividend policy. Home Depot continues to lead the industry over its key competitor Lowe's and seems to be the safest investment alternative between the two.
The days when LOW and HD could be bought at a trailing P/E of 12x, in 2008-2009, are unfortunately long gone. But I believe a balanced portfolio should still have room for stocks that are well positioned to deliver amid a still ongoing housing sector recovery.
Note from the author: Follow me as I build a risk-diversified portfolio designed and back-tested to generate market-like returns with lower risk. I call it the Storm-Resistant Growth portfolio. The very early results have already exceeded my expectations. Take advantage of the 14-day free trial, and get immediate access to the content and the community.
Disclosure: I/we have no positions in any stocks mentioned, but may initiate a long position in HD over the next 72 hours.
I wrote this article myself, and it expresses my own opinions. I am not receiving compensation for it (other than from Seeking Alpha). I have no business relationship with any company whose stock is mentioned in this article.
About this article:ExpandAuthor payment: $35 + $0.01/page view. Authors of PRO articles receive a minimum guaranteed payment of $150-500. Become a contributor »Tagged: Investing Ideas, Quick Picks & Lists, Services, Home Improvement StoresProblem with this article? Please tell us. Disagree with this article? Submit your own.