Oracle (NYSE:ORCL) hasn't looked back since it decided to plunge with both feet into the world of cloud computing. Not that you can call it a stunning growth story just yet, but the database major has quickly maneuvered itself into a position of strength on the stickiness of its customer base.
What are the factors that will help Oracle succeed in this crowded landscape populated by the giants of tech? Indeed, what does Oracle offer that helps retain a large portion of its existing client base in the face of a global shift towards cloud? More to the point, why does Oracle's current strategy bode well for its investors? I'll try to answer those questions as I analyze Oracle's strengths and opportunities in cloud.
Oracle's Customers Are Not Leaving
As the cloud computing market grew, there was a perpetual fear of what would happen to companies operating on-premise infrastructure. Ten, twenty years from now there's a good chance that none but a small percentage of users will be running their own infrastructure. Every additional billion dollars spent in cloud infrastructure is a billion taken away from the traditional on-premise segment.
Per Gartner, the global IaaS – Infrastructure-as-a-Service – market for public cloud went from $16.8 billion in 2015, up 31% to $22.1 billion the following year, with Amazon (AMZN), Microsoft (MSFT) and Alibaba (BABA) in the lead.
Oracle, however, has managed to withstand the aggressive onslaught and hold on to a large chunk of its customer base. In the first half of fiscal 2018, Oracle's software license and product support segment grew 3%; in fiscal 2017, it grew 2%.
Does that mean that Oracle's existing business is totally safe from being disrupted? Absolutely not.
Revenue from new software licenses and hardware has been declining. In fiscal 2017, new software licenses declined by 12%, and it further declined by 2% during the first half of current fiscal. Hardware revenues declined by 11% in 2017 and declined a further 6% during the first half of the current year.
That's a clear sign that Oracle's customers are happy to renew existing licenses and product support, but aren't necessarily using Oracle for further infrastructure growth.
I believe this trend is likely to continue over the next several years. Deployment and operating costs are constantly dropping, and the longer this continues, the more companies will shift from on-premise to cloud. In its 2017 State of the Cloud report, RightScale notes that 35% of the study's respondents reported cost savings. Though that was down from 37% during the previous year's study, it still shows a significant upside to investing in cloud infrastructure.
Not only does this allow Oracle some time to transition its customer base to its own cloud platform, but it also gives the company time to develop differentiated solutions. With a primary focus on increasing value and reducing TCO, or total cost of ownership, as well as complexity, Oracle is strongly positioning itself for growth. Which brings us to the matter of the transition it still needs to undergo.
The Transition
The first step here would be for Oracle to get its IaaS (Infrastructure-as-a-Service) revenues to offset what it makes from selling new software licenses and hardware.
During the first half of the current fiscal, IaaS revenue was $797 million, while new software licenses and hardware brought in $4.203 billion. Though the latter is nearly six times the size of the former, IaaS revenue grew by 25%, while new software licenses declined by 2% and hardware revenues declined by 6%.
There's also another segment where Oracle is making gains – SaaS, or Software as a Service.
"This coming January, Oracle will deliver the world's first autonomous database. We expect this innovative new technology to dramatically accelerate the growth of our PaaS and SaaS businesses and keep our database license business strong as well." – Larry Ellison during the second-quarter 2018 earnings call
So far, the strong growth in its SaaS segment has masked the weakness in Oracle's on-premise business, but the key to Oracle's future lies in the growth of its infrastructure services. Larry Ellison clearly knows this, which is why he keeps talking about Amazon all the time, once in a while drifting towards Salesforce (NYSE:CRM) and Workday (NYSE:WDAY), both of which are major players in the SaaS market.
And Oracle has been making several aggressive moves to get its infrastructure services segment growing.
"If you take a workload from Amazon running on Redshift and move it over to Oracle, your Amazon bill will drop by 80%. It will cost you five times more to run Redshift than to run the Oracle Autonomous. And this is not total cost of ownership, this is not labor, this is not – this is your Amazon bill, what you pay Amazon to do a piece of work, you can run on the Oracle cloud and pay $.20 on the dollar by moving from Amazon to Oracle.
We're so confident of our cost advantages over Amazon that Oracle will provide our customers with written service level agreements that guarantee, that guarantee moving to the Oracle cloud will cut Amazon customer's database bills in half or substantially more than half." – Larry Ellison during the second-quarter 2018 earnings call
Oracle's key differentiator has long been its database business, and the launch of the new product will further underline that distinction. Oracle Autonomous database promises to reduce manual input and maximize system availability, but the good thing here is that it's playing the pricing angle.
A first-of-its-kind product from a market leader would typically mean a premium price tag, but considering the size disadvantage that Oracle's IaaS business faces against Amazon and Microsoft, the focus on cost reduction seems to be a smart move that will attract more volume from a much larger user base. This move alone could help Oracle accelerate IaaS growth.
There's already evidence of SaaS being a secure and growing business for Oracle on the strengths of its Enterprise Resource Planning and Human Capital Management products. The segment has posted growth rates above 50% for the past several quarters.
But its on-premise business, which includes new software licenses, updates and product support and hardware, still accounts for nearly 75% of overall revenue. PaaS (Platform-as-a-Service) and IaaS accounted for just 4% during the first half of 2018, up from 1% during the first half of 2015.
The strong growth in the SaaS segment has certainly given the company a lot of breathing space, giving it some extra time to get its IaaS segment into shape. The combination of existing customer base staying loyal, SaaS taking care of medium-term revenue growth, and IaaS growing due to new product launches and aggressive pricing is a good recipe for long-term success.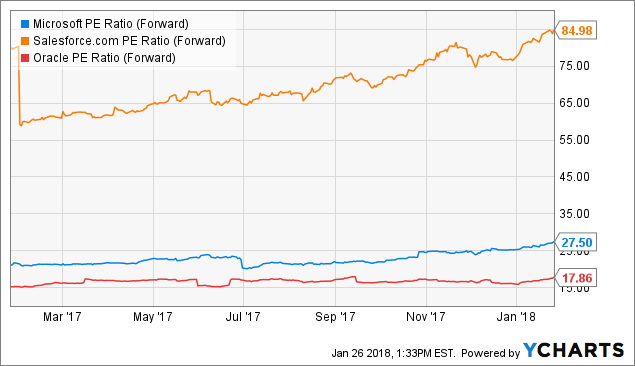 MSFT PE Ratio (Forward) data by YCharts
But the slow growth so far has made Oracle trade at a PE of just 21 times earnings and a forward PE of just 17, far lower than where other large tech giants are trading at, essentially making it the best buy at the current price point.
Disclosure: I/we have no positions in any stocks mentioned, and no plans to initiate any positions within the next 72 hours.
I wrote this article myself, and it expresses my own opinions. I am not receiving compensation for it (other than from Seeking Alpha). I have no business relationship with any company whose stock is mentioned in this article.
About this article:ExpandAuthor payment: Seeking Alpha pays for exclusive articles. Payment calculations are based on a combination of coverage area, popularity and quality.Tagged: Investing Ideas, Long Ideas, Technology, Application SoftwareWant to share your opinion on this article? Add a comment.Disagree with this article? Submit your own.To report a factual error in this article, click here