PayPal (PYPL) may perhaps be one of the most overlooked stocks on the market, given the impressive expansion efforts which stand to drive growth across the board for years to come. Their strong free cash flows, and sizable cash balance, provides management with an array of options to drive value for shareholders, ranging from M&A activity to share buybacks and dividends.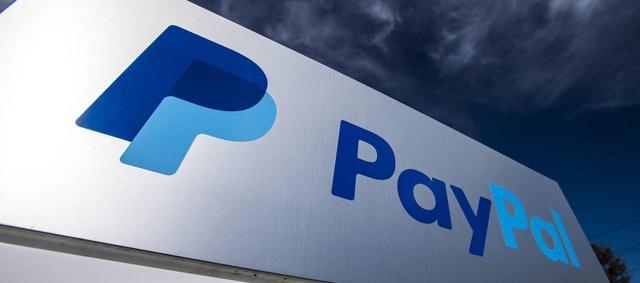 Source: WSJ
When coupling this competitive advantage in the payment space, to their recent entry into developing geographic regions, the future couldn't look better. Of course, critics will point out that Amazon's (AMZN) entry into the payment space poses a threat PayPal's well being.
Fortunately, these claims are far-fetched, with PayPal holding a leg up over the e-commerce giant. The company's current valuation, which is more than justifiable, seals the deal for us as we initiate a bullish stance on PayPal.
Q1 Overview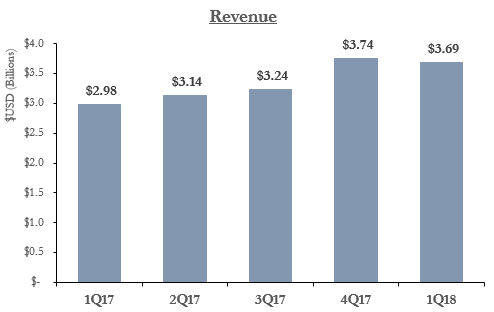 Source: Morningstar
Q1 revenue came in at ~$3.7 billion, up nearly 24% y/y (22% currency neutral); revenue drivers included strong mobile engagement, which includes the rising popularity of social payment app Venmo. The app processed over $12 billion in transactions in Q1, up 80% y/y; in the LTM, payments totaled over $40 billion. As PayPal rolls out a dedicated Venmo button for merchants, upside remains significant in this segment alone.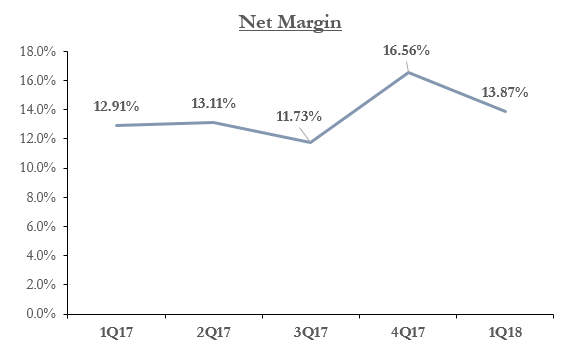 Source: Morningstar
Margins in Q1 contracted slightly by ~269 bps q/q. However, compared to the prior year, margins expanded by ~96 bps y/y. Margins are expected to remain at these levels, as the company maintains operating expenses under control.
In the long run, margins may see further expansion driven by strong pricing abilities in terms of fees. This could be key, especially with merchants who serve customers heavily through PayPal, and have developed an almost dependency. The strong pricing could be used to help drive bottom line growth, or offset any rising costs in the grand scheme of things.
Global Expansion: Betting On India
Venmo and pricing could certainly add to PayPal's top line, however, the bread and butter of the company's growth prospects lie in their international expansion, which is looking brighter than ever. PayPal's CFO John Rainey noted the untapped potential across the globe, by stating that:
There's something like two billion people across the world that don't have things that you and I take for granted a checking account, a banking account, a home mortgage, traditional financial services…The unique aspect about those two billion people is that 70 percent of them have a mobile device…
Source: CNBC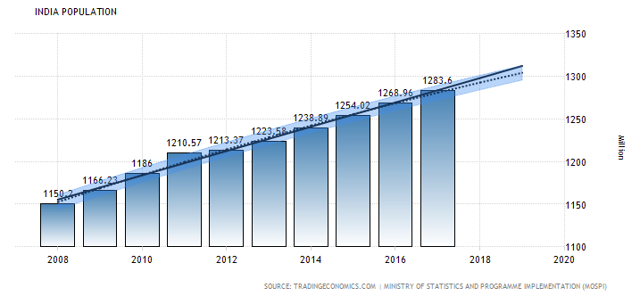 Source: TradingEconomics
India is just one country where PayPal is making a splash – along with other corporate giants such as Walmart (WMT) and Amazon (AMZN). The country's current population is ~1.3 billion, with approximately 400 million people utilizing mobile phones. CFO John Rainey further underlined PayPal's objective in their move into developing countries:
We have a vision of democratizing financial services for those that are underserved today… With a mobile device, we can put all of the power of a bank branch in the palm of their hand and allow them to join the world of e-commerce and shop online.
Source: CNBC
With India's population expected to continue growing at a prolific rate, PayPal is positioning itself to reap the benefits later down the road.
Cash Is King
What should happen when the company faces competitive issues as they expand globally? PayPal holds an edge with their cash, and could easily grow their market share through M&A; PayPal's cash balance grew at ~80% y/y. The company is not to be reckoned with, which is great news for shareholders and investors.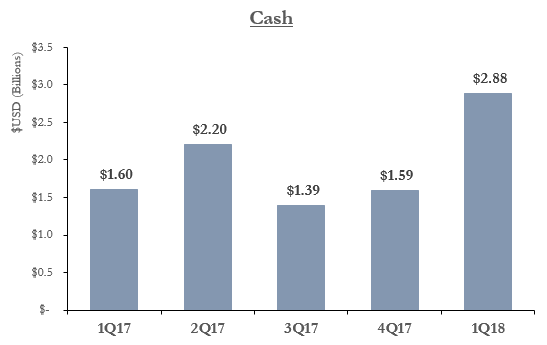 Source: Morningstar
One recent example of PayPal's deployment of capital is their acquisition of iZettle for $2.2 billion – an all-cash deal which is expected to close in 3Q18. This would allow PayPal to extend its reach into areas where they're not so popular offline, and widen their footstep across the pond in the U.K.:
iZettle has operations in 12 markets, including several in northern Europe and Mexico in Latin America, where PayPal doesnt have an extensive offline presence, such as Brazil, Denmark, Finland, France, Germany, Italy, Mexico, Netherlands, Norway, Spain and Sweden… iZettle is very strong also in the U.K., so will help PayPal strengthen its business in that market at a time when Square has finally emerged as a competitor there.
Source: TechCrunch
Despite strategic moves such as the iZettle deal, investors appeared to have gotten spooked by Amazon's movement into the payment space; many claim the e-commerce poses a serious threat to PayPal's bull case. However, a good argument made by Jim Cramer last night (5/16) on Mad Money calmed fears, with Cramer noting how many of the companies which Amazon appears to be crushing would be reluctant to use them for merchant services. PayPal has already gained the trust of businesses across the industry, and continues to see growth in their merchant accounts.
Relative Valuation
PayPal currently trades at ~33x forward earnings, which is fairly reasonable considering the upside potential that sits ahead.

Source: YahooFinance, S&P Capital IQ
Compared to competitors, the company is on the high end of the valuation range, but at the same time is experience growth beyond that of its peers. Factoring out capital structure, the company's ~32x EBITDA multiple is quite high – but again, we believe the premium is justifiable given the outreach and ongoing expansion of the payment processing company.
Although the company is not trading at a bargain, the valuation is appropriate in our eyes. We would not be concerned entering a position at these levels, believing that the upside that lies ahead is being undervalued by the market at the time.
Conclusion
PayPal continues to deliver strong results, and the future outlook remains bright. PayPal has yet to turn on the money switch for mobile platforms such as Venmo, leaving plenty of untapped potential in this area lone. In addition, the dependency that many merchants may have developed for PayPal is a big plus, giving management flexibility when it comes to driving revenue and margin expansion, or just offsetting increasing costs.
The expansion into developing countries such as India is a key driver going forward, and given the immense population (which continues to grow at breakneck speed), PayPal stands to reap the benefits of connecting individuals with financial services. The upside in India – along with other geographic regions which have yet to be breached – may be underrated by the market.
Looking at the company's cash situation, it continues to sit on top of a healthy pile of cash and generate strong free cash flow simultaneously. This allows PayPal to conduct deals such as their recent iZettle acquisition, which will strengthen the company's standing in various regions. With investors heavily scrutinizing the company's bottom line, balance sheet aspects like this may be overlooked.
On valuation, the company trades on the higher end of its peer group. A premium is easily justifiable when factoring in the company's global outreach, merchant dependency, and growth opportunities that lie ahead. PayPal will continue to impress investors time and time again, and although the naysayers may try to pick apart the bull case, the truth is the company is turning up solid results. When combined with management's vision for democratizing the movement of money, PayPal will continue to drive shareholder returns for years to come.
Disclosure: I/we have no positions in any stocks mentioned, but may initiate a long position in PYPL over the next 72 hours.
I wrote this article myself, and it expresses my own opinions. I am not receiving compensation for it (other than from Seeking Alpha). I have no business relationship with any company whose stock is mentioned in this article.