Yelp Inc (NYSE:YELP) unveiled its latest quarterly earnings results late Thursday, which came in ahead of the Wall Street projection on both the earnings and revenue metrics.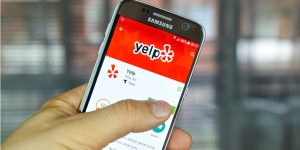 Source: Shutterstock
The business review site owner announced that its first quarter of fiscal 2018 brought in a loss of $2 million, or 3 cents per share, which was half of the loss from the year-ago quarter of $4 million, or 5 cents per share. Analysts were calling for the company to bring in a loss of 5 cents per share, according to data compiled by FactSet.
Yelp also announced revenue of $223 million, which was an improvement from the year-ago quarter thanks to the increased strength in the company's advertising business. Analysts were calling for the review site to bring in sales of $220 million during its first quarter.
The company also announced that it will participate at this year's J.P Morgan Global Technology, Media and Communications Conference, which is set to take place on Wednesday, May 16, 2018 at 10:00 a.m. EDT in Boston, MA. Yelp will discuss some of its latest business ventures, such as how its partnership with GrubHub Inc (NYSE:GRUB) is going.
The two companies have combined GrubHub's restaurant networks and efficient delivery infrastructure with Yelp's purchase-oriented audience positions to bring in thousands of new diners and millions of orders, benefiting both.
YELP stock fell about 4.1% after the bell Thursday. The stock declined nearly 0.3% during regular trading hours.
Compare Brokers